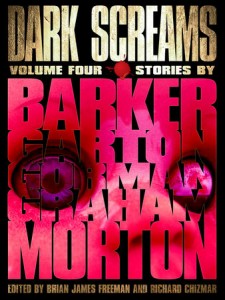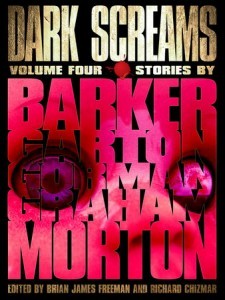 Dark Screams: Volume Four
Edited by Brian James Freeman and Richard Chizmar
Hydra, An Imprint of Random House
August 4, 2015
Reviewed by Tim Potter
With Dark Screams: Volume Four, editors Brian James Freeman and Richard Chizmar have again assembled an all-star cast of contributors for their anthology series. Featuring names like Barker, Garton, Gorman, Morton and Graham, Volume Four probably has the the most consistently outstanding group of writers yet. While the names provide great marquee value, their work is a bit uneven. Clive Barker's entry is unusually light and Heather Graham's is an oft recycled concept, but original tales from Ray Garton and Lisa Morton are very strong, as is Ed Gorman's reprinted nod to Stephen King.
The collection opens with "The Departed" by Clive Barker. The story was titled "Hermione and the Moon" upon its first publication in The New York Times on October 30, 1992. The publication in The Times is also likely the reason the story is very mild and accessible, especially by Barker's standards. The reader will not find the characteristics of his Books of Blood tales here, their sexuality and violence traded in for a tender tale of a recently deceased mother looking to see her child one last time. The story is far from Barker's best, but not without its charm, and is quite short.
Lisa Morton's "The New War" is the most unique and thought-provoking of the collections tales. It finds a World War II veteran recovering from hip surgery in a nursing home, desperately fighting to keep his grip on his life and surroundings. The terrors that are only present in one's own mind are, in the tale, much greater than anything found on a battlefield.
Ray Garton's "Sammy Comes Home" is both a horror story and a dog story. Garton is as good a horror writer as there is working today and this work just makes that more clear. He uses the inherent emotional attachment the reader has for dogs to tell a story of love and loss and what one has to do in the face of terror. Dogs and cats are disappearing from the Hale neighborhood, including their own dog Sammy. The tension is complicated and well realized as the horror only starts once the pets start returning home. The question of what happens when man's best friend becomes his biggest enemy is central.
The longest story in the collection comes courtesy of Ed Gorman and was originally published in the 1995 book Cages. The story is dedicated to Stephen King and certainly has the feel of some of King's better short works. Gorman only rarely ventures into horror, often writing mysteries and the occasional oat-opera, and it's always welcome when he does. "The Brasher Girl" is a story of madness, possibly shared madness and violence.
The closing story is Heather Graham's "Creature Feature," which fails to break any new ground or capitalize on genre cliches. The story finds characters at a convention celebrating creature effects and makeup for the film industry. In a story that's been revisited for decades, some of the life-size creations at the con seem a bit too real. How did they create such lifelike killers and victims? You probably already know.
Dark Screams: Volume Four is well worth picking up, even with a few less than stellar entries. Always priced to sell, Ray Garton, Ed Gorman and Lisa Morton give the readers their money's worth.