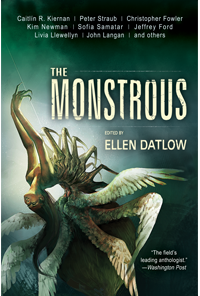 The Monstrous
Edited by Ellen Datlow
Tachyon
October 13, 2015
Reviewed by Tim Potter
The Monstrous is the latest anthology of horror and dark fantasy from editor Ellen Datlow. While there are some stories that are terrifically entertaining, the collection is uneven in terms quality, but the good certainly outweighs the bad. There is only one piece of fiction original to this book, the closing story "Corpsemouth" by John Langan and it fails to do more than serve as an uneven anchor to an uneven anthology. Datlow kicks off the book with an introduction that has an etymological look at the word "monster" and continues with a description of the theme of the collection. It's not so much the monsters, Datlow wants readers to know, but "…how the humans react to the monstrosities they encounter."
The first fiction work in the book is "A Natural History of Autumn" by Jeffrey Ford. It's an interesting and unique story that blurs the line between human and animal and features a unique monster with a mysterious origins. There are also a few twists as the story comes to it's conclusion that work rather nicely and that the reader likely won't see coming. The story unfolds at a slow but even pace that reads well, but is atypical of the big bang that most anthologies go for with the first story.
Dale Bailey delivers one of the best stories of the book with "Giants in the Earth", which showcases his mastery of short fiction. This is a claustrophobic tale, set largely underground in coal mines with miners in situations that feel so real it's like the reader can taste the coal dust in the air. It also a delicate story about beauty and man's hesitation, but sometimes duty, to destroy it.
"A Wish From a Bone" is an adventurous horror story from Gemma Files about an archaeological reality show uncovering a tomb in the middle of an uninhabited desert. It does a good job of making the often used ancient-curse story feel contemporary. "The Last, Clean, Bright Summer" from Livia Llewellyn is a contrast to the previous Files story, as it subtle and very dark. At times it's actually quite disturbing as the narrator relates a tale of dreadful family history and traditions.
It's at this point that the collection reaches its apex, the two previous stories being very solid and the two following stories being fantastic. The first of the two highlights is Kim Newman's "The Chill Clutch of the Unseen" which has great characters and a setting feels real. It's a story of law enforcement and legacies, and doing things that we must do, even if we desperately wish otherwise.
"Down Among the Dead Men" by Jack Dann and Gardner Dozios is the best story included and a great example of how powerful horror fiction can be. The focus of the tale is that a vampire is imprisoned with the general population in a Nazi concentration camp. The moral dilemmas this poses are many. Should a vampire be allowed to live when humans are being killed around him? Should he keep his vampirism a secret? When can he feed, or should he feed at all, off of his fellow prisoners? There are so many great things going on in this story that make it a must read.
Terry Dowling contributes "Jenny Come to Play," which starts off as a deceptively average psych hospital story and then proceeds to go very dark, very nasty places. The main character is a twin, born conjoined and separated later in life. Her interaction with her sister serves the to drive the story ahead, through the bizarre world of teratology and teratophilia, the uncovering of her horrific childhood secrets and to the climactic confrontation. The ending is a huge set-piece, full of entertaining action and melodrama that could have been devised by the Vincent Price character Dr. Phibes with the brutality of SAW's Jigsaw. It's a great conclusion to a very satisfying story.
"Chasing Sunset" is a short, fun, vulgar take on the cosmic mythology of H.P. Lovecraft from A.C. Wise. The story moves at a blistering pace, the voice of the narrator authentic and compelling. There is a very noir feel to the work, a down-and-dirty reality with dirt beneath its literary fingers. Call it Cthulhu-Noir. Wise does an admirable job making the story accessible to those unfamiliar with Lovecraft's work and the result is a good story to the uninitiated and a great story to those more familiar with the source material.
The collection features a number of stories that are okay, not great but worth reading, from authors Carole Johnstone, Brian Hodge, Stephen Graham Jones, Glen Hirshberg and Steve Rasnic Tem. Some of the weakest stories come courtesy of some of it's biggest names, like Peter Straub, Caitlin R. Kiernan, Adam-Troy Castro, Adam L.G. Nevill, Sofia Samatar and Christopher Fowler.
The final story is the collection's only original, "Corpsemouth" by John Langan. It's a slow read and can be best described as an interesting disappointment. It's a family saga, focusing on a man who travels to Scotland to meet extended family in the wake of his father's death. Stories and mythologies that have handed down through the generations are learned and investigated. Some parts are intriguing, like the Stonehenge-esque ruins with mysterious symbols that seem to relate to the main character's father's final days. Other parts drag under the weight of too many words, such as the retelling of a myth of Merlyn and his monster. It's a read that just ends up being unmemorable.
There is a huge amount of content in The Monstrous and I can't imagine any reader not feeling like they received their money's worth and then some. It's a collection that may not compel one to read every story or to read the book straight through, but it's definitely worth having on hand for those times when you find yourself in the mood for a good monster story.