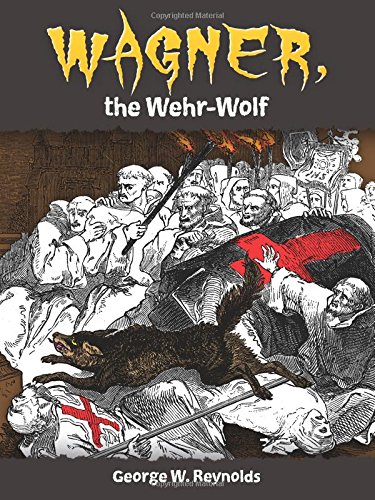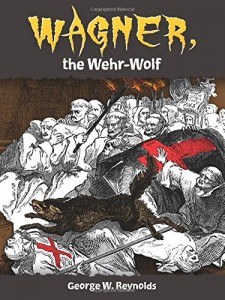 Wagner, the Wehr-Wolf
George W. Reynolds
Dover Publications (Dover Horror Classics)
December 16, 2015
Reviewed by David Goudsward
Horror fans have been given a great gift in the Dover Horror Classics series. The roots of horror are explored, including many forgotten titles that influenced later authors, and there is no better example than British author George William MacArthur Reynolds (1814-1879). Virtually forgotten today, Reynolds was the Stephen King of Victorian England, more popular and better selling than other authors like Charles Dickens. His best known book was The Mysteries of London, which like most of Reynolds' works, first appeared as a weekly "penny dreadful." Right from the start, Reynolds knew his audience, moving his story from the formulaic haunted castles into the squalid streets of the London slums, and introduced the grave-robbing, serial-murdering "Resurrection Man" 42 years before Jack the Ripper made the story seem a little too real for comfort in Whitechapel.
Wagner, the Wehr-Wolf was the first major treatment of the werewolf theme in English literature, first appearing in serial form in 1846. Set in 16th century Europe, the novel opens with the elderly Fernand Wagner, alone and slowly starving in a hut in the Black Forest. He makes a pact with the Devil, obtaining youth, wealth, and knowledge in exchange for the monthly transformation into a homicidal werewolf. He falls in love with the mysterious Nisida, and the two must flee Italy. Because the penny dreadful format needed a cliff hanger for each installment, the story twists and turns through subplots, supernatural encounters, and a plethora of murders as the couple flee to a deserted island, with both the Inquisition and the Ottoman Empire in pursuit. Wagner must find a cure, but a deal with Satan may mean the cure is worse than the lycanthropy.
Reynolds did not believe in shades of gray in his characters. Good characters were unshakably good, villains were irredeemably evil. Wagner is both – good as a human, pure evil as a werewolf, two sides of the same coin. Robert Louis Stevenson would revisit this concept 40 years later with Strange Case of Dr. Jekyll and Mr. Hyde.
The 2015 edition is a reprint of Dover's 1975 edition, with an introduction by legendary fantasy literature editor E. F. Bleiler, who considered reviving interest in Reynolds a pet project. The text Bleiler chose was the 1865 edition, and although the text is a tad small, the page reproductions are sharp, crisp, and clean, and this helps tremendously. It is lavishly decorated with 24 of the original Henry Anelay illustrations, and includes more evidence of Bleiler's devotion – the first modern survey of Reynolds's work.