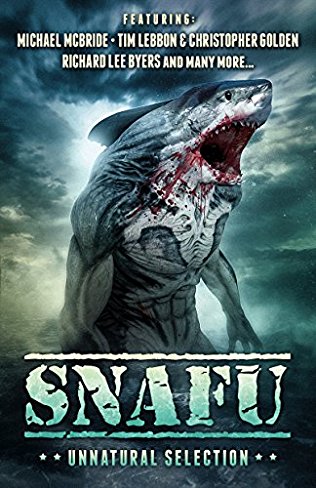 SNAFU: Unnatural Selection (SNAFU #7)
Amanda J. Spedding and Geoff Brown, Editors
Cohesion Press
December 8, 2016
Reviewed by David Goudsward
The SNAFU series is an ongoing series of anthologies about some aspect of military horror. In this case, SNAFU: Unnatural Selection is military battling mutants, aliens, and science gone wrong. The focus of the book is the combat aspect, so stories range from gun porn to Syfy movie scripts. That's not necessarily a bad thing, but the book seems off-balanced, especially when, after seven stories of commandos vs clawed horrors, you suddenly hit Richard Lee Byers's exquisite historical story "Vermin" with the Turks attempting to defeat a force of occupying Crusaders.
Byers is at the top of his game, and that's the flaw – there are no bad stories in the collection, but when you're sharing space with some of the top writers in the field, good solid story telling pales against great story tellers. "The Weavers in Darkness" by James A. Moore and Charles R. Rutledge, taking what could have been a perfectly good SWAT team versus giant spiders and making it great by adding a little nod to Clark Ashton Smith's Lovecraftian god Atlach-Nacha.
And the crown jewel is the Christopher Golden and Tim Lebbon collaboration "A Hole in the World." Yes, there's gunplay, but there are brisk dialogue and solid characters, not exactly two strengths of gun porn. The story follows a Spetznaz squad (Soviet Special Forces) sent to investigate the disappearance of a scientific team exploring a sinkhole, setting up a conflict with a subterranean tentacle species not particularly well versed in first contact.
I suspect some readers may consider the horror coming across as secondary to the military component in most stories to be an issue. And SNAFU: Unnatural Selection is more military than horror, but that's the concept of the series, and if your idea of a good time is reading about big guns blowing away big ugly monsters, this is your book.