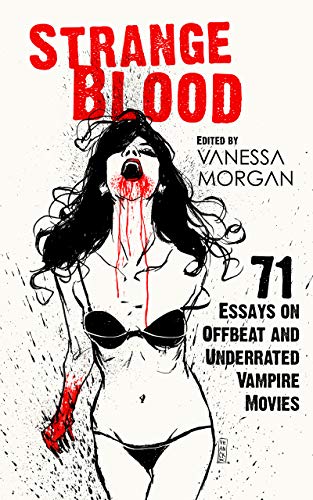 Strange Blood: 71 Essays on Offbeat and Underrated Vampire Movies
Edited by Vanessa Morgan
2019
Moonlight Creek Publishing
Reviewed by David Goudsward
This book is a collection of vampire movie essays, written by a diverse collection of contributors. As such, the tone and style vary from piece to piece. The focus is on how a particular contributor justifies their movie choice, aside from a few articles where it feels more like a review than an assessment, and the focus on what makes a particular film worth watching be it casting, scripting, cinematography, or just pure kitschy entertainment value (and yes, I'm looking at you, Santo vs. Las Mujeres Vampiro).
This collection is eclectic, ranging across 80 years of sanguinary cinema across the globe, from 1933 (The Vampire Bat) to 2014 (Angels of Darkness). And more than a fair share are obscure, partly due to their foreign release and some are familiar, but not necessarily remembered as a vampirocentric film. I do think the selection is a little weak in the distinctive Japanese and Filipino versions of vampire films, but Sven Daems does a nice overview of Filipino vampire films in his introductory notes to the American remake of Aswang: The Unearthing.
My only complaint is that there are films in this book that are neither offbeat nor underrated. Now admittedly, as a film ages, it gets forgotten, but the book is geared toward vampire movie fans, who most certainly know films such as Fright Night, The Lost Boys, From Dusk Till Dawn, or Salem's Lot. Personally, I would have replaced those with selections such as Un vampiro a Miami, the Carlos Villarías version of Drácula, and The Last Sect. None-the-less, it is a remarkable collection that would be a valued addition to the shelves of anyone who likes their monsters undead and thirsty.