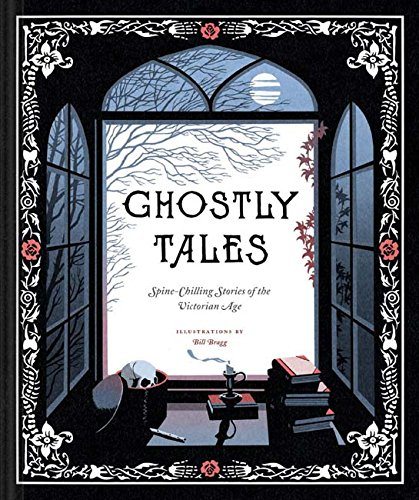 Ghostly Tales: Spine-Chilling Stories of the Victorian Age
July 25th, 2017
Chronicle Books
Reviewed by David Goudsward
Ghostly Tales is a collection of ghost stories by mostly English authors. Most of the stories have been widely reprinted and would be familiar to a genre fan, but if you're looking for a book to serve an introduction to Victorian ghost stories, or a gift book, Ghostly Tales is the perfect choice with a handsome hardcover with an embossed embellishments and lush illustrations from Bill Bragg.
The seven stories included are:
"Oh, Whistle, and I'll Come to You, My Lad" by M. R. James, in which a vacationing college professor makes the rookie mistake of taking a relic from Templar ruins.
"The Old Nurse's Story" by Elizabeth Gaskell. Probably the least known tale in the book, an elderly nanny recalls a past battle to save her charge from an ancestral tragedy attempting to repeat itself.
"The Signalman" by Charles Dickens tells of a railroad worker who is haunted by a warning bell that only he can hear. Each time it rings it is a premonition to a tragedy he cannot stop.
"The Body-Snatcher" by Robert Louis Stevenson. A famous medical researcher requires corpses for dissection, but legitimately obtained cadavers are running scarce.
"The Captain of the Pole-Star" by Sir Arthur Conan Doyle. The captain drops anchor in the Artic Sea, in spite of the risk of being trapped in the ice. Then the crew starts reporting ghosts.
"The Phantom Coach" by Amelia B. Edwards. A lost hunter seeks shelter at an isolated house. He is told where to catch the night coach back to town. It is a ride he will soon regret.
"The Screaming Skull" by F. Marion Crawford. An old sea captain inherits the house of a doctor friend. The house fully furnished, including a vengeance-seeking skull of the doctor's wife.