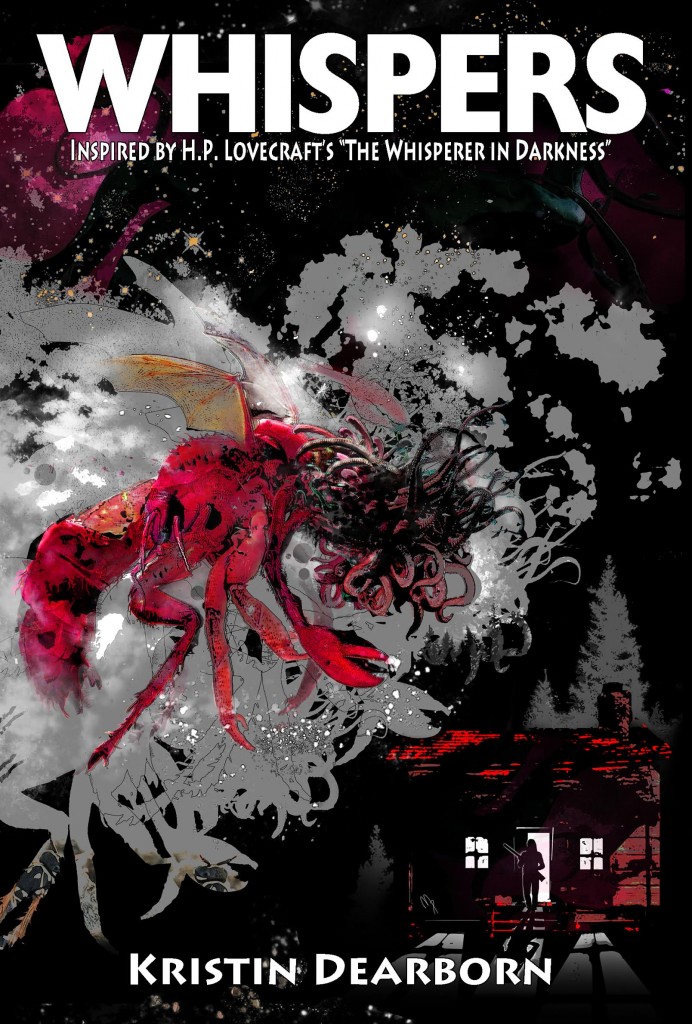 Whispers
Kristin Dearborn
Lovecraft eZine Press
November 9, 2016
Reviewed by David Goudsward
In August 2011, tropical storm Irene hit Vermont, drenching the state so severely that it was compared to the floods of 1927. The 1927 floods triggered the events recorded in H. P. Lovecraft's "The Whisperer in the Darkness," and the 2011 flooding similarly inspired events in Kristin Dearborn's Whispers (2016). Unlike Lovecraft's bucolic unspoiled paradise, Dearborn's Vermont has been broached by the modern age – drugs, sex, and, violence have reached the cities and the taint is felt in the woods as well.
One afternoon, Sarah Sorrell comes across a hitchhiker in the rain. Sarah, against her better judgment, stops to give the girl a ride – Sarah knows the forests holds a deadly secret, and hitchhikers rarely survive the nights. They go to her cabin in the woods outside of the town of Wickenden. Neveah, the girl Sarah has aided, turns out to be a prostitute and drug mule fleeing her pimp. Sarah has her own problems – the aliens known as Mi-Go continue their insidious encroachment on humanity, and they have taken control of Wickenden. The Mi-Go are attempting to convince Sarah to join them. Sarah, preferring to keep her consciousness inside her body, refuses, and the Mi-Go grow weary of the stalemate. Now her Mi-Go minion neighbors have brought Neveah's psychotic pimp to the cabin for a climactic battle between good, evil, and ET.
The novella is a fast read (98 pages) and while an innocuous addition to the body of work surrounding Lovecraft's Vermont tale, Whispers suffers from unfulfilled potential – this is a plot screaming to be a novel. The author obviously has the skill and the pieces are in place. The characters are well-established, but the plot feels compressed and rushed, particularly at the end. I urge Ms. Dearborn to seriously consider revisiting this story and expanding it into the full-length it deserves.