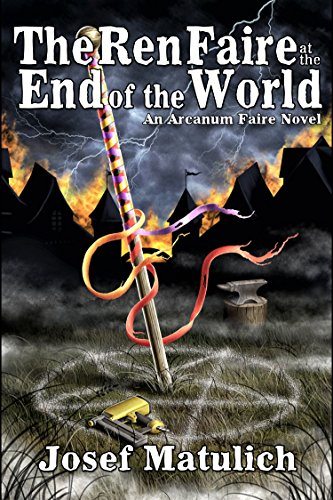 The Ren Faire at the End of the World (Book 3 in the Arcanum Faire Trilogy)
Josef Matulich
January 2018
Post Mortem Press
Reviewed by David Goudsward
All contractor Marc Sindri wants to do is finish building his ren faire village and get on to the next project. Perhaps manage a little quality time with his enigmatically magical girlfriend Brenwyn. But this fairground is in Arcanum, Ohio, and if you think things are going to be that easy, you're not a local (or didn't read the previous two books). It's Imbolc, and someone/thing has ripped apart the stone mausoleum of the Stone family, and the body of Jerimiah Stone, the unlamented black magician (and Brenwyn's ex) is missing.
Jeremiah Stone may or may not be dead but his minions of undead animals possessed by proto-demonic lagomorphs is growing, and the rest of the Stone family ain't exactly thrilled with Marc, who they blame for Jerimiah's death. And as masters of evil go, the rest of the Stone clan are not exactly slouches either.
So the Arcanum Ren Faire slowly and painfully (especially for Marc) inches toward completion, in spite of demons, dragons, cultists, and attacks by undead skinless bunnies. But Marc's personal approach to problem-solving by hitting things with a shovel may not be enough this time – sex, magick, and power tools may not be enough to prevent the Stone family's revenge on Marc. Let's face it, where do you hit the ultimate evil with a shovel to maximize damage?
The story is wrapped up explosively (literally and figuratively) as Marc and his construction crew, Brenwyn and her coven, and the local chapter of the SCA must join forces to prevent Armageddon. Author Matulich claims this is the last Arcanum Faire book, but he allows just enough potential loose ends to leave the possibility open to another. I suppose, as Marc Sindri learns, sometimes it's just a matter of believing.