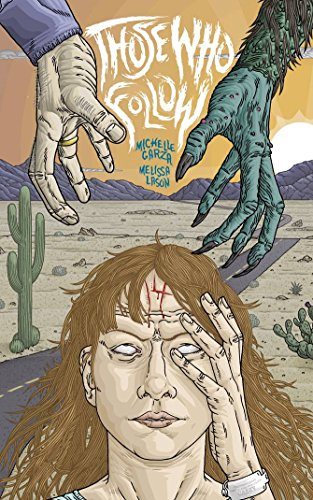 Those Who Follow
Michelle Garza and Melissa Lason
Bloodshot Books
July 28, 2017
Reviewed by Shane Douglas Keene
What do a modern day mental health facility, a decrepit and abandoned asylum, and an old church in the desert have in common? Sheer cold-blooded brutality and edge of your seat terror, that's what.
I first encountered Melissa Lason and Michelle Garza's considerable talent last year in a novel called Mayan Blue. I went into that book a blank canvas and came out the back end feeling like I had just been mauled by Jackson Pollock in a headdress, and feeling lucky because I had two new authors to follow and read. The twin sisters' remarkable alacrity with the written word stems from years of writing together and, one would imagine, that particular and intriguing affinity that only identical siblings have with each other, one that's likely made more intense by the closeness that Michelle and Melissa professedly share with one another. And, as you'll see, that peculiar trait comes into play and proves itself quite useful in the telling of their newest tale, Those Who Follow.
In Those Who Follow we meet Celia and Casey, twin sisters who were separated at birth and now, as adults, find themselves each in dire predicaments. Casey is in a mental hospital having visions of a broken-down church in the desert where a group of women are being held captive by a sociopathic "priest" and Celia is one of those women caught in his clutches. Things start getting tense and chilling right from the start as Casey starts to feel the pain and atrocities being inflicted on Celia, even manifesting physical symptoms, cuts, and scars that are being perpetrated on the sister she doesn't even know she has. These two women are some of the strongest female leads I've experienced before, fiercely independent and resilient, they're fighters and survivors, bearing a bond that neither is unaware of but not fully conscious of the extent of that connection, either.
What really makes this story work for me is the combination of people and setting and how they interact with each other. A good author not only creates relatable, believable people, but also manages to manipulate the setting in such a way that it becomes a major player in the story, often seeming more like a character than a place. And, in Those Who Follow, the sisters have managed to do just that, making the rundown little church in an other-dimensional desert an ominous, looming presence, oppressive, dark, and claustrophobic in its inescapability, as potentially violent and menacing as the evil "preacher" who has imprisoned several women there. So too, is the same thing true of the decrepit abandoned asylum where the twins mother gave birth to them and subsequently died. Through the use of heavy atmosphere and a strong infusion of foreboding, the place is given a dark and threatening presence that further ups the sense of dread that permeates the book. You get the sense that the already bleak circumstances are headed quickly to a deeper hell, that a violent and portentous confrontation waits just around the corner as Celia plots her escape and Casey draws near to the place of horror in the desert.
They don't call Michelle Garza and Melissa Lason The Sisters of Slaughter for no reason, and they remain true to form with Those Who Follow. The story takes an unflinching look at exploitation in its many forms, pulling no punches as it depicts scenarios of forced captivity, cannibalism, and torture, featuring a villain with a god complex, prone to fits of explosive violence and a lust for human suffering. But, as with their previous work, the twins approach to the violent and sometimes hard to look at aspects of the book is never gratuitous, instead serving to drive the story forward at a frenetic pace, carrying you along on waves of tension and dread, leaving you finally with a crafty little twist of an ending that will likely have you hoping to eventually see more of this strange, terrifying place. Birthed in the imaginations of two of horror's newest young stars, Those Who Follow is a must-read experience for anyone who loves hardcore horror with a beating human heart at its center.