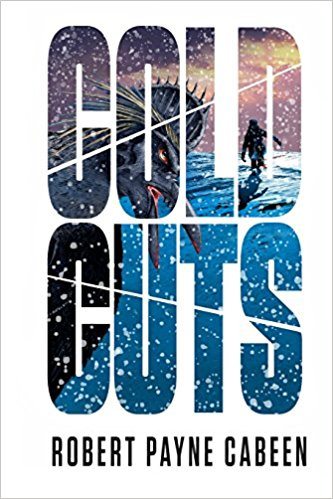 Cold Cuts
Robert Payne Cabeen
Omnium Gatherum Press
August 26, 2017
Reviewed by Shane Douglas Keene
Robert Payne Cabeen is a new name to me, a fresh voice on the hardcore horror scene and promising talent that came out of nowhere and completely surprised me. And it isn't unusual for that to happen when the editor is the multi-talented author/editor Kate Jonez and the press is Omnium Gatherum. Their books and their increasing stable of authors never fail to please and the only truly unexpected thing that could come from them at this point in my experiences with them would be if they published a book that failed to impress me. And Cold Cuts, the debut outing from Cabeen, is another fantastic specimen of the type of top shelf speculative fiction to come out of the left field that is Omnium Gatherum and find me shaking my head in wonder at the sheer originality of the thing. It's a science fiction horror story not quite like anything I've read before, simultaneously expansive in scope, claustrophobic in nature, and exceedingly eloquent in the telling and it's a book that I would place high on your TBR if you haven't read it yet.
In Cold Cuts, Robert Payne Cabeen introduces us to Ozzy Pratt and Ben Eaton, two environmental scientists in the Antarctic, extreme polar opposites personality wise, who find themselves fighting for survival against the elements, a shadowy organization that wants to wipe them from existence, mutant wildlife that wants them for lunch, and even each other. Cabeen's story is one that speaks to the times we live in, addressing important problems but never becoming preachy and never losing sight of the fact that what he's telling is a tale of horror and high adventure in the wildest of environments planet Earth has to offer. While offering a certain level of depth and thoughtfulness, it isn't the storyteller's intention to take a literary approach to the tale, instead going for high entertainment value and succeeding remarkably well.
When I first started reading Robert Payne Cabeen's Cold Cuts, I was immediately struck by his ability to turn a phrase, his alacrity with description, and the vividness of his imagery. Right at the beginning there's a flashback scene in an alley behind a donut shop where Ozzy Pratt has an encounter with a girl and a donut, a moment as filled with promise as a donut oozing succulent raspberry jelly:
"Emily pulled a jelly donut from a white, paper bag. It was obscenely oversized, deep-fryer fresh, dusted with powdered sugar, and oozing scarlet raspberry jelly. This wasn't just any donut, it was a pure white dove in the hands of a bewitching, dark angel, a concentrated offering. Emily raised it with reverence, and took a bite. Confectioner's sugar rained down on her lacy black blouse. Without thinking, he brushed the powder off. Emily pressed his hand on her chest, and held it there. Her heart beat quick and strong. She leaned forward and pressed her lips to his. They were soft and warm, with a trace of powdered sugar and raspberries."
That scene and the individual elements within stand out in such stark clarity they evoked what I can only describe as an emotional hunger pang, both for the taste of the donut and the kiss of an enigmatic girl I'll never meet.
Stephen King has said that good horror fiction doesn't seek to terrify, a feat that is difficult to impossible to achieve with the written word, but strives instead to build a sense of dread and despair. Whether naturally or intentionally, Cabeen has a strong grasp of this concept and begins the process of creating tension, suspense, and despair in strong doses right from the very first paragraph of the prologue and carrying it and piling onto it throughout the novel, building an environment and a scenario that are both oppressive, and breathtakingly vast in setting, putting his protagonist in increasingly hopeless situations. But Pratt is an endlessly resourceful individual, highly intelligent and innovative and he's determined to survive the horrific straits he finds himself in no matter what the cost.
Another aspect of storytelling that Robert Payne Cabeen has a masterful alacrity with is pacing. Given that the story takes place in small shelter beneath the Antarctic ice most of the time, the pace is never less than frenetic. Cabeen's remarkable ability to create suspense and the bouts of sudden, unexpected, and explosive action serve to drive the story forward at jet-propelled speeds, jettisoning his readers through the story so quickly, the end comes shockingly soon, as abrupt and violent as a speeding train crashing into a concrete barrier, serving to thin the cast down to just a spare few remaining individuals and leaving his readers breathless and clinging to the edge of their seats.
That last point leads me to one of the very minor flaws with the story, keeping in mind that most debut outings have some flaws, often major ones. The story for me could have been ended effectively and satisfactorily with those final, desperately violent scenes on the ice, but it doesn't. It goes on for a few more scenes that, for the most part, serve the singular purpose of letting the reader know that this probably won't be the last you'll hear from these characters or this universe that Cabeen has painted with such vivid imagery. That's not to say it's a story wrecking flaw by any means and I'm sure that most readers, if they have similar responses to my own, will have fallen enough in love with the world to be happy knowing there's likely more to come from this fascinating and starkly terrifying wasteland that serves as the stage for Cold Cuts.
If you haven't read any of the entries from Omnium Gatherum's outstanding catalog of speculative fiction, you should remedy that situation soon. And if you're looking for a good place to start, I can't think of a better one than Robert Payne Cabeen's debut outing in the world of hardcore horror. It's a thrill ride of relentless action, sudden and brutal outbursts of shocking violence, and nightmarish isolation in a desolate wasteland populated with mutant, bloodthirsty monstrosities and humans of the most heinous variety, all set against one remarkably resilient survivor who refuses to lie down. If you like your horror fast and furious and dark as the abyss of the human soul, Robert Payne Cabeen's Cold Cuts delivers exactly what you hunger for.