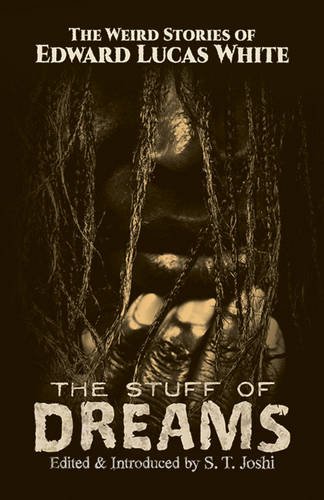 The Stuff of Dreams: The Weird Stories of Edward Lucas White
S.T. Joshi, Editor
Dover Horror Classics
April 20, 2016
Reviewed by David Goudsward
Edward Lucas White (1866–1934) is one of the most underappreciated masters of short horror fiction. In his lifetime, White was well regarded for his poetry and a series of historical novels set in the Roman Empire. They were popular at the time, but when's the last time you saw a recommended reading list that included Andivius Hedulio: Adventures of a Roman Nobleman in the Days of the Empire (1921)? White's long-term claim to fame was the stuff nightmares are made of. Specifically, the nightmares of Edward Lucas White. White was prone to nightmares which he then transformed into short horror stories. Even Lovecraft was impressed, declaring in Supernatural Horror in Literature of White's stories as having "a very persuasive strangeness" while others "arouse darker apprehensions."
The Stuff of Dreams is a long overdue new collection of White's best stories. The book consists of ten stories, two poems, and a brief essay on the dreams/nightmares that inspired them. by are all that amounts to Edward Lucas White's weird fiction.
The collection is arranged chronologically by date of composition, which gives some insight into White's evolution as a weird writer. As his career progresses, we go from the short, almost spartan prose of "The House of the Nightmare" where a man wrecks his car and seeks shelter in a decrepit house with a cleft-lipped boy as his host. You can see White's stories stretching as we reach the middle of the contents and White's most famous story, "Lukundoo," the tale of an American explorer who breaks the cardinal rule of exploration and aggravates the local witch doctor. The curse has gruesome results, probably more so to the sensibilities of the time. From there, the stories reflect the style of the time, with more gradual building up of the tensions and nebulous resolutions.
"Amina" is the story of a novice in Persia who unwisely takes a stroll one night, ending up in mortal danger among the ancient ruins. By itself, it is a good, but not remarkable story. But if you read it and then skip down to the poem "The Ghoula," you realize you are reading the same story, the protagonist's version countered by the antagonist's view.
The one flaw in this book, and it borders on nit-picking, is that in Joshi's introductory notes, he mentions he has not included two stories that were collected in the 1927 collection of White's stories, "Floki's Blade" and "Alfandega 49a." The former, Joshi says, is more folkloric than horror, and the latter is simply not up to White's normal quality. "Floki's Blade" is also one of the few stories that White wrote that was not based on one of his dreams. It would have been nice to show new readers the difference between his nightmare-inspired works and one done without subconscious inspiration.