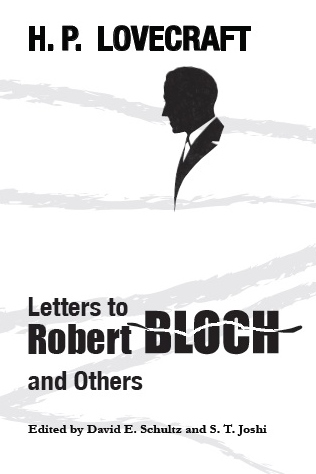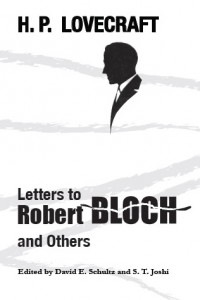 Letters to Robert Bloch and Others
Edited by David E. Schultz and S.T. Joshi
Hippocampus Press
July 18, 2015
Reviewed by David Goudsward
The seventh collection of the Letters to H.P. Lovecraft may be one of the more important in the series. The other volumes span years of correspondents with an individual; The August Derleth letters alone are a two-volume set spanning 1926 to 1937. It has been suggested that had Lovecraft not been a writer of weird fiction, he would still be known for the scope, range, and quantity of his correspondence.
This volume is different. These are letters from the end of Lovecraft's life, responding to notes from fans who have read his work in Weird Tales who wanted to become writers. And of all the correspondents that Lovecraft tutored, none achieved the success of Robert Bloch, who would later pen the 1959 novel Psycho of Hitchcock film fame. From his first letter to Lovecraft 1933, the 16-year old Bloch takes the advice of his mentor to heart and soon, Lovecraft is impressed with his commercial success in the pulps.
Included after the Bloch letters are correspondence to other, lesser known figures including Kenneth Sterling (who collaborated with Lovecraft on "In the Walls of Eryx"), Donald A. Wollheim (co-founder of Arkham House ), Willis Conover (jazz producer), and Natalie Wooley (poet and amateur journalism figure). In these letters we see the mature Lovecraft, carefully pointing potential authors to the appropriate markets, making suggestions whose work to read, and sharing the same tattered manuscripts that had been passed among friends for a decade. And as the letters creep toward his March 1937 death, the discussions remain as eclectic and intellectual, but references to his ill-health begin to creep in. It is only in his brief, poignant reply to Willis Conover, six days before cancer claimed him, that Lovecraft admits he is very ill.
The book is priced consistently with the other single volumes in the series but there's close to 100 pages of material including appendices of works by the correspondents and bibliographies. Considering the total page count is 550, I can't help but wonder if there really is a need for things such as a glossary of frequently mentioned names. It's the seventh book in the series (eighth if you include the OOP Robert Howard 2-volume set). Factor in the various biographies and frankly, if you don't know all the names by now, you're probably not the target audience to start with. And if you are the Lovecraftian aficionado who needs to see the inner workings of the Old Gent's mind, this books should be on your shopping list. Especially since you'll want to digest this one before the next one is released next year.