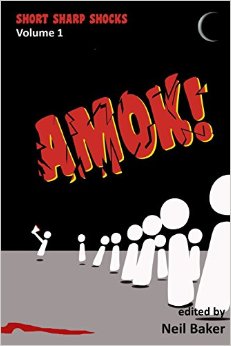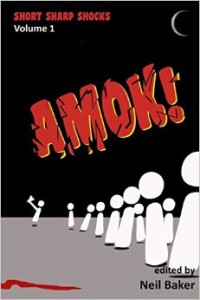 Amok! Short Sharp Shocks Volume 1
Edited by Neil Baker
April Moon Books
2014
Reviewed by David Goudsward
Editor Baker has chosen the theme of mental disintegration, random rampages and similar madness for AMOK!, the inaugural volume of a proposed series of themed anthologies. And he's off to a good start. It would have been easy to compile a collection of Norman Bates wannabes or folks chasing coworkers with axes, but Baker went out of his way to avoid the clichéd. Here are 26 stories that range from post-apocalyptic barbarians to future robot wars, violent ghosts to intelligent pigs. And just to mix it more, Baker includes stories from a wide variety genres: cyberpunk, Lovecraftian, science fiction, and of course, the traditional coldly rational madmen and serial killers. In other words, readers are in for a bloody good time, emphasis on the first adjective.
The leaping from one setting to another can be jarring, but it is appropriate for the theme—amok, by definition, is a frenzied, uncontrolled state. Where can you find an anthology with stories like "G.A.G." by Rob E. Boley, where spirits depart the body, leaving survivors with zombies and ghosts that can access audio technology, side by side with "Sparrow" by M. Lori Motley, set a fantasy world where magick has gone mad, taking the mages with it?
There are so many stories that there were bound to be some that are stronger than others, but there are no misses and several that hit the theme straight on. Of particular note is "Desensitized" by Kerry G.S. Lipp, a chilling look into the perfectly rational thought process of a serial killer in the middle of a shooting spree.
April Moon has also released the second Short Sharp Shocks volume, Stomping Grounds, devoted giant monster tales. Having also read this volume, I can safely say that Amok! is a solid start to a series of books that show the editor's keen eye is detecting newer writers. I look forward to volume 3 in the series this summer.