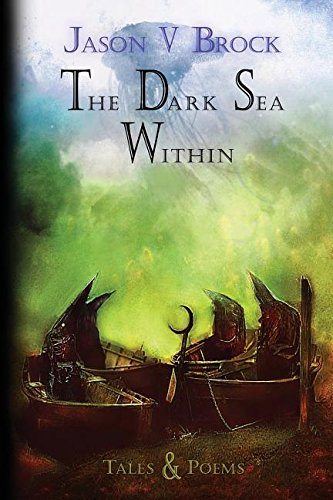 The Dark Sea Within: Tales & Poems
Jason V Brock
2017
Hippocampus Press
Reviewed by Michael R. Collings
Jason V Brock is an accomplished writer, artist, scholar, editor, and filmmaker—or, to put it more succinctly, he is an accomplished visionary, taking as his subject all things weird and dark. In A Darke Phantastique (2014), he moved outwardly, to share with like-minded readers the imaginations of contemporary writers as they created their own versions of what reality might be…and be like.
In The Dark Sea Within: Tales & Poems (and graphics), he moves in the opposite direction, inwardly, into himself and the imaginative universe he inhabits. Through a preface, twenty stories and poems (a number of them stories unto themselves), and extensive notes providing the genesis for the tales, he constantly reaches toward the "dark sea within," what he sees as the core of darkness—be it greed, ambition, disregard for others and the larger world, or simply evil—that tempers acts and thoughts and, in these tales at least, leads inevitably to greater darkness.
Normally, the standard approach to reviewing a collection of dark fiction is to give brief—ideally tantalizing—outlines of characters and plots, to suggest to readers the treasures to be found within. While that is certainly possible with Brock's stories, mere summary is nowhere near sufficient to prepare readers for the treasures—and the tasks—that await within the covers. To select an obvious example, the extraordinarily complex "Epistles from Dis" is a two-part post-apocalyptic that distorts expected narrative sequence by postponing the revelation of cause until the end. Message is communicated through graphics and charts, single words serving dually as headings for sections, and a final section titled "Prelude." As in the world the story depicts, meaning is difficult to determine…if it can be determined at all.
Or the equally complex "Unity of Affect," in which much of the sense of a mad kaleidoscope engulfing characters comes from the liberal use of Roman and Italic fonts; of bold-face; of abrupt shifts in point-of-view; of spacing and repetition of letters and words; of internal capitalization; of highlighting and underlining; and every other typographical element the story requires to realize itself. Reading it becomes as much a puzzle for readers as understanding what is happening is to the characters. And the story is wider and deeper for it.
These two are exceptional in part because of their length. Others, shorter, do not have the space to develop alternate modes of communication, and thus appear more like conventional tales. The first two, phantasmagorical stories titled "The Dark Sea Within" and "The Man With the Horn," share a common theme of greed—for wealth and for knowing what must remain unknown; and not coincidentally, they share certain characters as well. "Transposition" hinges on the dark art of obtaining organs and other body parts for transplanting; the following piece is the poem, "A Carcass, Waiting," with a graphic as explicit and disturbing as Renaissance studies of musculature.
"The Shadow of Heaven;" "Fallen: A Lament and Affirmation;" and "Brood"—the first a story, the second a semi-Miltonic poem in which Lucifer returns in final victory over God, and the third another short story—all contain elements of Lovecraft's greater Cosmos, of ancient gods returning and reclaiming that which once was theirs. "Double Feature" implies that when—not if—the darkness rises, it might just as well be through our own actions as through the restoration of older darknesses.
And so it goes. From one page to the next, we are treated to watching a consummate artist perform with words, with images, with format and typography as he visits, re-visits, and transforms themes and images that have captured the imaginations of our times. Brock's visions are frequently disturbing and discomfiting, often, difficult to grasp, but always worth the effort.