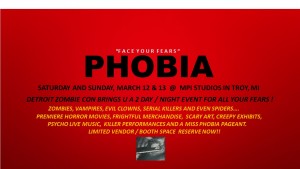 The team behind DETROIT ZOMBIE CON plan a bolder and bloodier return this March with PHOBIA.
PHOBIA is a two day and night horror themed experience that focuses on all that we fear.
Zombies, Clowns, Serial Killers and more will converge upon MPI studios in Troy, Michigan Saturday and Sunday March 12th and 13th for a round the clock frightfest. PHOBIA will feature a film festival with 12 Midwest premieres, live role playing events, special guests and even a Miss Phobia pageant.
PHOBIA will feature the US premiere of the critically acclaimed thriller THE DARK BELOW. Billed as an experimental thriller the Dark Below premiered at Fantasia International Film Fest before two sold out screenings in Paris, France at L'ETRANGE this summer. Dark Below contains only three spoken words of dialogue and is set beneath a frozen lake as a woman struggles for survival while a serial killer hunts her from above. Frightfest UK calls the film "Breathtaking and audacious". Fantasia says "You've never seen anything like it, Wow". Phobia will be the only place in the US where you can see the Dark Below ahead of its North American release.
Phobia is also hosting a Miss Phobia pageant that will feature a bevy of beauties in their favorite phobia themed attire. A MUST SEE.
The two day event will take place inside the Motion Picture Institute in Troy, Michigan – a 20,000 ft. production facility with soundstages and more www.mpifilm.com
Visit the official facebook page for PHOBIA at www.facebook.com/phobiafest. Ticket info coming soon.