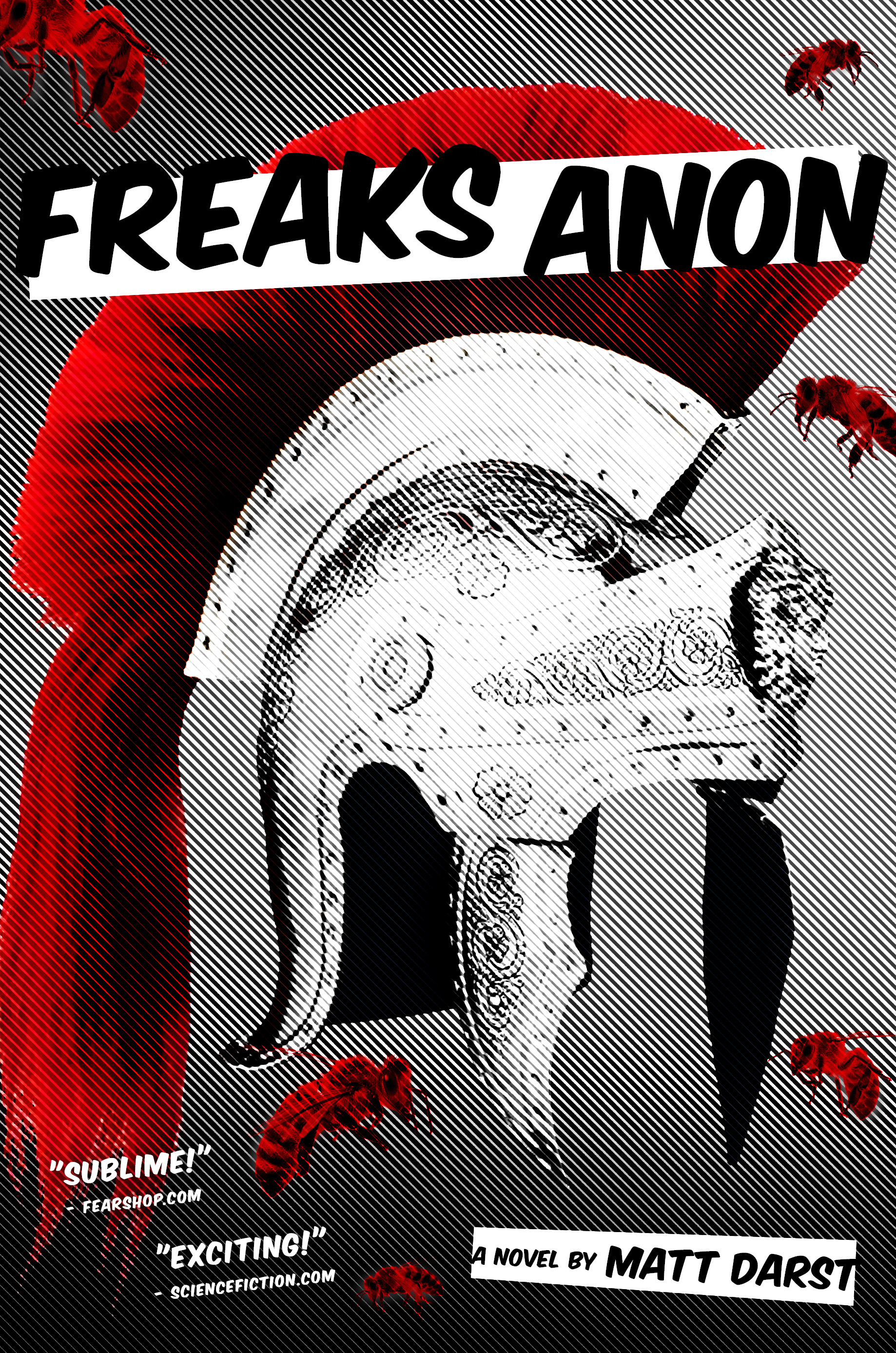 Help celebrate the recent release of Freaks Anon by entering to win a signed paperback copy of the novel today!
Collection notices. Disapproving looks. Sleeping in a van. Life's hard for wannabe superhero. Things get harder still when Centurion's sidekick, Henry, dies.
The police say Henry's death was an accident. Centurion knows better. His death is part of a bigger pattern. Someone's murdering children, kids with extraordinary psychic and physical abilities, across the South and Midwest.
He needs to find the killer fast. In Chicago, his prime suspect has already set her sights on friends Astrid and Kim. But these teens aren't like anything he's ever seen. They're special. Like Henry.
Centurion will face spies, monsters, and the ultimate evil: the Chicago auto pound. If he doesn't watch out, he might just find he's the one in need of saving.
All proceeds from the sale of Freaks Anon will be donated to charity
Included with the novel is Matt's dystopian short story Monument. Winners will also receive a couple of promotional buttons.
Reviews
"Darst works his magic in horror once again, this time expanding into the realm of superheroes in an exciting mash-up that fans of both comic books and the paranormal are sure to enjoy!" Stuart Conover, ScienceFiction.com
"I had so much fun reading Freaks Anon. Being a huge Alan Moore fan, I'm always hoping to read something intelligent when it comes to superheroes. I crave material like that…and with its great writing and believable characters, Freaks Anon nails it. It's a fanboy's dream. I once read that you should only keep the books you will read again, and I've tried to live by that. I will definitely keep this book." Frank Hrin, Fearshop.com Horror Podcast
"As with Dead Things, Matt Darst has created another sublime world. Freaks Anon is a dark, weird fairy tale of monsters and heroes. Excellent." Rich Hawkins, Author of The Last Plague and The Last Outpost
About the Author
Matt Darst's childhood addiction to reading took a turn for the worst when he started writing…for fun. His experimentation with notebooks (a classic gateway) led to dabbling with typewriters. Soon he was hitting the hard stuff: word processors.
He decided to straighten out his life. He went cold turkey. He got a responsible job, a place in Chicago, and a dog. He surrounded himself with all the trappings of a normal life. Still…
Pen and pad call to Matt late at night, cooing his name, telling him to take another hit of fiction. Sometimes, when he's weak, he heeds the siren call of the drug. He wakes from each blackout amid reams of freshly written pages, pages that have seemingly written themselves. Freaks Anon is Matt's second novel.
You can find Matt:
– Online. http://www.mattdarst.com
– Twitter. @MattDarst
– Facebook. https://www.facebook.com/matthew.darst
About the Charity
All proceeds from the sale of Freaks Anon will be donated to Stand Up to Cancer (SU2C). SU2C is an initiative created to accelerate innovative cancer research that will get new therapies to patients quickly and save lives now. SU2C brings together the best and the brightest researchers and encourages collaboration instead of competition among the entire cancer community. The charity received a grade of A- from Charity Watch in September 2015. Approximately 77% of SU2C's cash budget is spent on programs versus overhead. Progress will be charted, and private donations can be made, here. Thank you for your interest in the novel and for helping stand up to cancer!
US entries only.