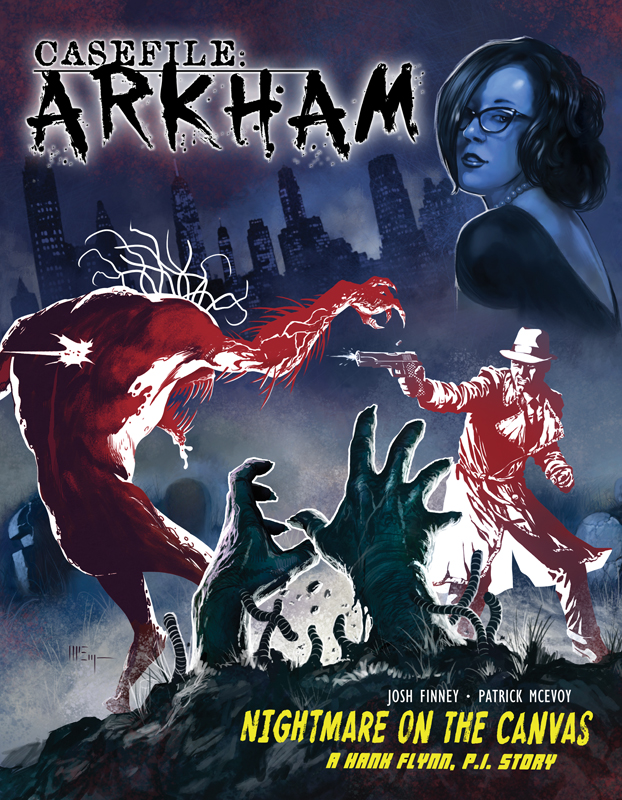 Casefile: ARKHAM Vol. 1 – Nightmare on the Canvas
Created by Josh Finney & Patrick McEvoy
01Publishing
February, 2016
Reviewed by Jess Landry
Have you ever wondered what an H.P. Lovecraft story might be like if it were a crime noir set in the 1940s and had a tough-as-nails private eye as the main character? Well, look no further than Casefile: ARKHAM.
Nightmare on the Canvas follows Hank Flynn, P.I., as he takes on a missing persons case in the streets of Arkham, Massachusetts, and it just so happens that the missing person is a painter by the name of Pickman. Hired by the newly widowed (and super rich) May Derlith, Flynn sets off to piece together the circumstances of Pickman's disappearance, and finds a helluva lot of weird trouble along the way.
Fans of Lovecraft (I hope you recognized a few of the names above), come get your kicks. You know there's going to be some Old One-y goodness here, and the story itself is loosely based on his story, Pickman's Model. Nightmare on the Canvas delivers an intriguing read that'll keep you compelled from beginning to end, thanks to the imaginative spin on the story and the beautiful illustrations.
The entire graphic novel reads like a monochromatic nightmare – a design decision that adds a great deal of atmosphere to the dark and gritty story. The layout is another wonder to behold – Nightmare on the Canvas shies away from the more traditional graphic design blueprint, instead it creates pages with less than five panels on them and still manages to pack a whole lot of detail without overcrowding the scene. There are captivating full page spreads and magnificent uses of negative space.
Nightmare on the Canvas is graphic novel perfection. Fingers crossed that it's the first of many in the Casefile: ARKHAM series.