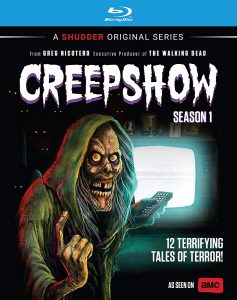 Creepshow – Season One – Blu-ray
Reviewed by Brian M. Sammons
I have a love for horror anthologies in books, movies, and TV shows. Three cheers then for the horror streaming service, Shudder, for giving us more of one of the best horror anthology movies ever, Creepshow. For those that need a refresher, Creepshow was a tribute to the EC horror comics of the 50s, based on stories by Stephen King, and directed by George Romero. It is arguably the best anthology movie ever made and it was so good that it spawned a very decent sequel. And that's it. Yep, there is no Creepshow 3. Not in my world, anyway, and I would warn you from looking further into that. Anyway, after Creepshow 2 came out in 1987, over thirty years passed in creepy silence. Then special make-up effects guru, and big dog on The Walking Dead series, Greg Nicotero, revived the franchise as a six episode series, with two stories per episode. So how was the return of the creep and his show? Well, let's find out.
Some of the tales come for preexisting stories, or written for specifically for this screen by some of the best names in horror fiction, such as Josh Malerman, David J. Schow, Joe R. Lansdale, John Skipp, Joe Hill, and even Stephen King. That's a good thing, as everything needs to start with a strong story, unlike so many other anthologies and series that think they can coast by on a name and recognizable stunt casting. So that's a point in the win column.
As for those stories, they are a very mixed bag, in both subject matter and, of course, quality. Yeah, like every anthology TV show ever made, yes, even your favorites, some episodes don't hit the mark as well as others. But overall, Season One of Creepshow is far more hit than miss, with standouts being werewolves in World War II, a man drinking a bad beer and becoming a Lovecraftian horror, a creepy dollhouse, trick-or-treaters on Halloween looking to play one last trick, a cute and deadly critter born of a severed digit, and that old, lovable standby: a killer scarecrow. That's another one for the wins.
On to the extras that RLJE Films and AMC (the parent company of Shudder) put on these discs. First, there are audio commentaries for all six episodes. Actually, episode 5 has two commentaries for some reason, so that makes seven. Then each episode gets a massive breakdown with interviews with the cast, crew, and writers, behind the scenes footage, a photo gallery, and featurette. If that wasn't enough, there are seven standalone featurettes on the series as a whole about acting, reviving Creepshow, the look and filming process, the creatures and makeup, and more. So yeah, this package gives you a lot of bang for your buck and that's another notch on the win side of things.
I am very happy that Creepshow is back and I am very happy that Shudder is putting this original series on disc so even those that don't have the streaming service can watch this very fine show. Available on Blu-ray and DVD, consider this set of discs well recommended.