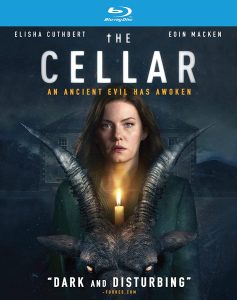 The Cellar
Director: Brendan Muldowney
Stars: Elisha Cuthbert, Eoin Macken, Dylan Fitzmaurice Brady
Reviewed by Brian M. Sammons
The relationship between RLJE Films and horror streaming service Shudder continues to grow and impress with this latest release, The Cellar. This movie, just like the very good Lights Out, started off as a short film called The Ten Steps. It can be found on YouTube and probably many over video services, and I highly recommend watching it. It's great and done very well. So well, in fact, that a studio gave the creator, Brendan Muldowney, a bunch of money to turn it into a feature film. Now, even if you have seen The Ten Steps, don't worry. The short film is redone here for the first few minutes of The Cellar, so everything after that is an expansion on the original idea. Does making something bigger make it better, or at least just as frightening and effective as the original? Well, grab a candle, count those steps going down, and let's find out.
The movie starts off with a family moving into a new house. Well, the house is new to them, but it is very old and it has a mysterious past. One night while the parents are out, the lights go out on the two kids left at home. Big sister calls the parents because she is frightened to go down into the cellar to check the fuse box, but they tell her to buck up, be a good girl, and just do it. After all, there are only ten steps down, so just count them off as you go down and everything will be fine. Turns out, nothing is fine in this house. Now with the daughter missing, it's up to mom (played by Elisha Cuthbert) to uncover all the secrets of the house. Who was the mysterious previous owner? What's the deal with all the occult symbols all over the house? And what keeps making those strange noises in the deep, dark cellar?
The Cellar is a basic haunted house movie, but that's not a bad thing in my book. Haunted house flicks are some of my favorite horror films, and this movie does add a few new and neat twists to the existing formula. The direction is more than solid, delivering more than a few legit chills and creeps. The acting is all good and special kudos goes to Ms. Cuthbert, who really delivers here. My only slight problem with this one was the ending. It is perfectly fine and serviceable, but it seemed like the filmmakers were going for something more. Something grander. But again, what they do here isn't in any way bad.
On to the extras on this new Blu-ray from RLJE Films. There is an audio commentary track with director Brendan Muldowney and produce Richard Bolger. There is a collection of on-screen interviews with many of the film's cast and crew. There is a featurette on the movie's VFX (visual effects) that show it in the early stages and how it ended up. The original short film that this movie is based on, The Ten Steps, is included here, and I just love that it is. Lastly, that Ten Steps short has its own commentary track with the director. That's a pretty good list of goodies.
The Cellar takes a small, short idea and successfully expands on it. I like the mythology they came up with, the film packs some good chills, and I thoroughly enjoyed my time with it. If you are a ghost and haunting junkie like me, then this is must watch. Consider it recommended.