HPLHS Dark Adventure Radio Theater: Part 2
Reviewed by Brian M. Sammons
Back to the amazing radio plays based on the stories by Lovecraft as done by the H. P. Lovecraft Historical Society. Now I have covered many of their Dark Adventure Radio Theater episodes already, with each one taking one of Lovecraft's more famous stories of cosmic horror and the Cthulhu Mythos and telling it as a fully acted out radio drama, complete with music, sound effects, even some humorous and period appropriate pseudo commercials. And in short: I have absolutely loved each and everyone I've listened to and highly recommend them all. But today I'm going to focus of some of their more unusual offerings as the HPLHS tries new things to spice it up a bit and break away from what they have already mastered. These are still audio dramas (think of them as acted out audio books) but they're all just a little bit different.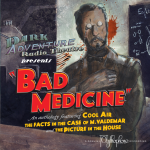 First there are Dark Adventure Radio Theater (DART) episodes 19 & 22. These are called Bad Medicine and Mad Science and each is an audio anthology. They take some of Lovecraft's (and others) shorter stories that wouldn't make a full episode on their own without adding some considerable padding and collect them within a similar theme. Bad Medicine takes two Lovecraft shorts, "Cool Air" and "The Picture in the House," and then places Edgar Allan Poe's "The Facts in the Case of M. Valdemar" between the two of them. Since Mr. Poe was one of Mr. Lovecraft's favorite authors, his inclusion here feels right at home.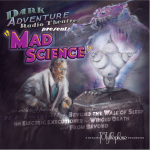 Then with Mad Science, we start off with HPL's "Beyond the Wall of Sleep" before turning to some of his collaborations. "The Electric Executioner" he did with Adolphe de Castro, and "Winged Death" was done with Hazel Heald. All three show that the pursuit of science can often lead to a fall into madness, not to mention death.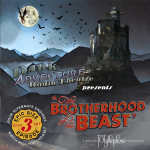 With episodes 16 & 20, the HPLHS takes direct inspiration from the Call of Cthulhu role playing game by Chaosium, which not only helped to keep Lovecraft love alive for many years, but is still very popular today. The Brotherhood of the Beast is based on the classic Call of Cthulhu campaign, "The Fungi from Yuggoth" by Keith Herber. Think of a campaign as akin to a novel in size, but done as an interactive adventure for the players to go through. As such, it's big. Like three CD's big. Furthermore, in keeping with the feel of RPG adventures, this episode has multiple endings, one after another, with different results. It is very much like the 1985 movie Clue, which had different endings depending on what theater you saw it in. If you watched it on cable, home video, DVD, etc. then when the climax of the film happened a title card would come up that said, "That's how it could have happened, but what about this?" That's basically the same thing here, which adds some fun and replay value to the story.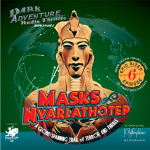 Episode 20 is Masks of Nyarlathotep and is the largest Dark Adventure Radio Theater yet, totaling a whopping six CDs in length. This is based off of Call of Cthulhu's most famous and legendary campaign, also called MoN, which was originally written by Larry DiTillio and Lynn Willis, but has since been added to and expanded by many people over the years. This is a true globe-trotting adventure, with lengthy chapters in America, England, Egypt, Kenya, Australia, and China. Here characters come and go, live and die, all in an epic quest to stop the Crawling Chaos from returning to rule the Earth in his many guises. This is a huge radio play and as someone that's run the massive campaign for my own players, very faithful and a whole lot of fun.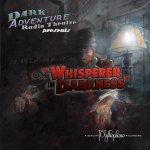 The last one I want to spotlight here is Episode 23, The Whisperer in Darkness. Based on the Lovecraft story of the same name, and one of my favorite tales of his, it is told in a very fun and unique way. Instead of a normal audio drama, this one is told through a series of "real" recordings made by the characters of the story at different locations from the story. This makes the whole think like a found footage movie, only with an audio presentation. Now this was done out of necessity as it was made during the heart of the lockdown response to COVID-19 pandemic, in a manner that would ensure the health and safety of the HPLHS' entire team through the process. So good on them for that, but the result was a very cool and engaging narrative that was a lot of fun to listen to. So it's Lovecraft's story, only told in a unique way, and I loved it.
As I said from the start, I am a huge fan of these DARTs and easily recommend them to all fans of Lovecraft, horror, mystery, and radio plays. I especially like that as long as the HPLHS has been doing these recordings, they can still come up with new and fun things to do with them. If you want to get some of these Dark Adventure Radio Theaters for yourself, you can go here to find their entire catalog of DARTs and so much more: www.hplhs.org. Consider them, and pretty much everything else the H.P. Lovecraft Historical Society produces very highly recommended.