April is a huge month over here at JournalStone, so let's dive right in!
First up, the latest in JournalStone's DoubleDown series, Dark of Night – Flesh and Fire by Jonathan Maberry, Rachael Lavin and Lucas Mangum, hits bookstores on April 22nd! Can't wait that long? We don't blame you – pre-order your copy today!
Mark Dunn's haunting new novel, The Last Night, drops April 15th. Bonus – pre-order now and get a free digital copy of the book!
Been down to journalstone.com lately? We did a massive upgrade to the site and installed a brand new store! So go ahead and check it all out (maybe splurge on some books while you're at it)…we'll gladly wait.
Do you have a flair for sparking conversation? Or maybe you're a huge horror movie buff? The JournalStone Network is in need of interviewers, book reviewers, and digital movie reviewers! No experience needed, just drop us a line and let's get started.
That's it, that's all folks! Until next month!
Jess
JournalStone Network Assistant Editor
NEW & UPCOMING RELEASES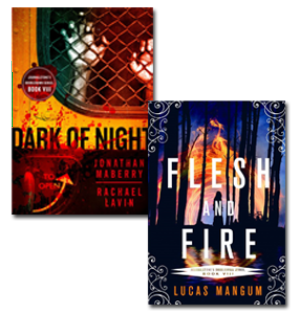 DARK OF NIGHT – FLESH AND FIRE
By Jonathan Maberry, Rachael Lavin & Lucas Mangum
JournalStone's DoubleDown collection continues with Number VIII in the series of flip books.
Dark of Night (Jonathan Maberry & Rachael Lavin): The dead rose. We fell. The survivors are trapped in a world of monsters who prey on the helpless. Some of them are zombies…but they are not the only predators who feed on pain and suffering. DARK OF NIGHT is a story of worlds in collision. Three heroes who have survived the apocalypse are in a deadly race to save a busload of children from ravenous zombies and ruthless human scavengers.
Flesh and Fire (Lucas Mangum): In the midst of a midlife crisis, Todd is haunted by Chloe, the lover who died not long after their relationship ended. When Chloe escapes Hell in search of the peaceful rest that has eluded her, a demon named Samael is on her trail and she needs Todd's help. While on the run Todd and Chloe face demons real and personal, soul-threatening danger, and their long-buried feelings for each other.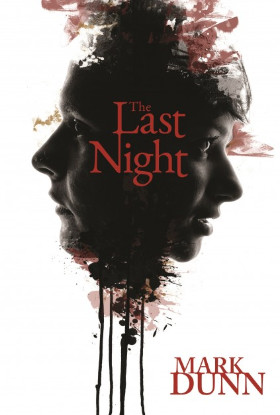 THE LAST NIGHT
By Mark Dunn
John Barron never felt at home in his own skin. Constantly moving from place to place, from job to job, he can never escape the nagging feeling that someone, or something, is coming for him, and that this predatory evil threatens all he holds most dear…
Rose is a creature of the night, a brutal killer with no conscience who is propelled only by the need to survive. But now, suddenly, she sees in her dreams the face of a child, her baby, and her life is thrown into a chaos she never saw coming.
What links these two damaged souls, and what will happen when their paths merge? The Last Night, the second novel from Mark P. Dunn, is a twisting ride through the darkest fears and brightest hopes of the human heart.
LIKE FREE MOVIES? WHO DOESN'T?
We're looking for digital film reviewers, indie game reviewers, book reviewers, and interviewers. No experience necessary, so if you'd like to take a stab at any or all of the above, drop Editor-in-Chief of the JournalStone Network, Stuart Conover, a line!
JOURNALSTONE PUBLISHING
Jonathan Maberry – Out of Tune Book II – 5/20/2016
Brian Matthews – Conveyance – 6/17/2016
Jonathan Maberry – Whistling Past the Graveyard and Other Stories – 7/22/2016
Brett J. Talley (Ed.) – Limbus, Inc. – Book III – 7/29/2016
Gary A. Braunbeck – Mr. Hands – 8/19/2016
Benjamin Kane Ethridge – Slaughter Man I – 9/16/2016
Laird Barron – Swift to Chase – 10/7/2016
Douglas Wynne – Untitled – 10/21/2016
Jeff Pryor – Chosen of Trees and Talons – 11/11/2016
Laird Barron – All the Devils are Here – 11/18/2016
Jonathan Maberry – Short Story Collection: Sam Hunter – 12/2/2016
Gary A. Braunbeck – Vespers – 12/9/2016
BIZARRO PULP PRESS
Peter Salomon – PseudoPsalms – Spring 2016
Rhys Hughes – The Elusive Plato – Spring 2016
Matt Bialer – Wonder Weavers – Summer 2016
MP Johnson – Berzerkoids – Winter 2016
David Bernstein – Retch – Winter 2016