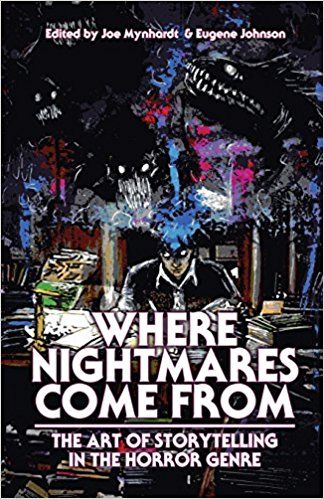 Where Nightmares Come From
Edited by Joe Mynhardt and Eugene Johnson
Crystal Lake Publishing
Official Release Date November 17, 2017
Reviewed by Brian James Lewis
Wouldn't it be great if all your heroes told you their secrets? Especially if you're a writer, poet, artist, screenwriter, or creator of comics and graphic novels who wants to succeed in the Horror genre? Sure, there are books out by certain writers and they're great. But they're just ideas from a single author such as Stephen King or Ray Bradbury. No disrespect, but to buy a writing book from every single author you've ever enjoyed would cost a fortune. Most emerging writers are scraping by from paycheck to paycheck and aren't dealing with huge amounts of free time. What we need is for someone to deliver lots of knowledge in a single volume that is priced within our means.
Good news! Crystal Lake Publishing has come out with just such a book! Where Nightmares Come From is full of carefully compiled pieces of knowledge. A quick glance through the table of contents reveals names like: Richard Chizmar, Joe Lansdale, Charlaine Harris, Jonathan Maberry, Clive Barker, and Stephen King. That is just a handful of the cool writers featured in Book I of Crystal Lake's Dream Weaver series edited by Joe Mynhardt and Eugene Johnson. Crystal Lake's mission extends past giving us great books to read, they also want to teach and support those of us trying to make it in the Horror genre with books like this, as well as mentorships and other great options.
But what if you're not planning to be the next Joe Lansdale? Maybe you just really love Horror and its bedfellows. Thank you! This book is also for you too! It offers many peeks behind the curtain and into the minds of those you enjoy being scared by! What's it like to collaborate with one of the world's biggest names in Horror? Stephen King and Richard Chizmar talk about that in their interview with Bev Vincent. Clive Barker gives you the "A-Z of Horror," and Joe Lansdale asserts that it matters a lot who is telling the story, because Horror is about more than just getting scared. There are roundtables, interviews, and pieces written by the elite of Horror.
I couldn't help but notice the excellent piece by Jess Landry – "The Monster Squad-or, How I Learned To Stop Worrying and Love The Publisher." She explains the benefits of working with smaller Indie presses and the good and bad things about being published, period. One thing she warns about is a very real threat and easy to step into. Vanity presses are out to take your money and your rights to your own damn story! Sure, they seem nice. But in truth, they are predators that feed on our dreams and screw us in ways that are no fun at all. No need to panic, just do your homework and choose carefully. Looking for upstanding publishers with good reputations? JournalStone and Trepidatio fit that bill! You can't win if you don't play, so submit your best stuff and know that editing is a necessary evil. Don't fear the red pen or blue pencil!
Would I recommend this book? Hell yeah! If you love Horror you owe it to yourself to buy a copy of Where Nightmares Come From! Learning was never so much fun and entertaining! All the pieces in this book are tools you will use more than once. Fuel your passions and learn how to make your dreams come true. Our idols are real people who were just like us. Take this opportunity and learn from the best. The future is in your hands, reach out and grab a copy TODAY!