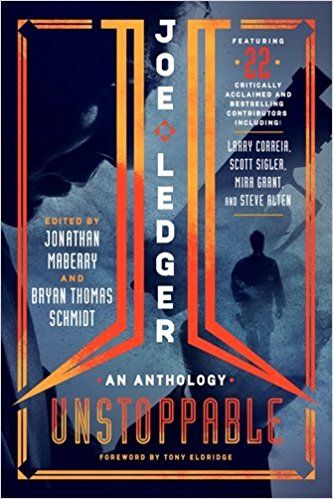 Joe Ledger-UNSTOPPABLE-An Anthology
Jonathan Maberry and Bryan Thomas Schmidt-Editors
St. Martin's Press
October 31, 2017
Reviewed by Brian James Lewis
Joe Ledger has done a lot in his fictional lifetime and he deserves some recognition for keeping the world a safer place to live in. So twenty-two big-deal, bestselling writers joined forces when they got the call from Jonathan Maberry and Bryan Thomas Schmidt to put their spin on the iconic Mr. Ledger and Echo Team. We're talking about Christopher Golden, Tim Lebbon, Joe McKinney, and Jennifer Campbell-Hicks, just to name a few. They did a most excellent job and if you like action and the unexpected, I strongly encourage you to pick up a copy of Joe Ledger-UNSTOPPABLE ASAP! One final thought before the show begins. Even though the guys and gals of Echo Team are very strong and powerful, what sets them apart is brains. Sure they might have to crack a few heads, but they often avoid same by figuring things out before the bad guys do. Let's take a peek shall we?
No Guns at the Bar by Aaron Rosenburg puts Echo Team in a tight spot, sans weapons. True, they're supposed to be enjoying a night off duty. But when you do the kind of work these people do, you're never completely off the clock. The Closers, a high tech, but not high quality group of folks, ruin what should be a night of fun. In fact, they play dirty pool by using some kind of ray gun that makes all metal disappear, including Warbride's belly button ring.  Stealing guns is bad enough, but that's just a little too personal! So what the hell do you do when heavily armed people steal all your weapons? Well, if you're Top, Bunny, and Warbride, you make use of what you've got. Then you kick some serious ass and report back to your boss, Joe Ledger
Red Dirt by Mira Grant is a moving tale about people in a dirt poor town just trying to make it any way they can. They don't have much but they have each other and Dr. Kathleen Abrams, a person who swore that she would never watch another person try to sleep off a terminal illness if she could help it. Unfortunately, something is happening in her town and she can't fix it. The reason? She doesn't know what is causing all the sudden deaths of people who were more or less healthy. If that wasn't enough, she gets some surprise visitors from Echo Team who want to help. Not only that, but some of these people know what the problem is. It doesn't go very smoothly. While a lot of Joe Ledger stories end with the good guys saving the world, this one doesn't. Because in real life, the good guys do their damnedest but sometimes that's not enough. Great story!
Brains are what makes Joe and his cohorts so fun to read about. They can pull off a life threatening mission and still say something like, "That's not actually on my day planner." When a vampiric Red Knight offers to kill them as an honor. This is just one of the cool things that happens during Instinct (A Ghost Story) by Bryan Thomas Schmidt and G.P. Charles. Joe's dog, Ghost, is a white German Shepard who tells us a lot about Joe. See, working this job for the DMS-The Department of Military Sciences-is a wild and crazy gig, but it cuts a person off from the "normal world." This isn't stuff you can share with your local bartender. Joe isn't just a clinical trained assassin. He has a big heart for the right things like rescuing a bunch of badly abused fighting dogs. These are pit bulls referred to as "bait dogs" by those who run these illegal dog fighting rings. Bait dogs are the losers in the system. They are sacrificed to the larger and more ferocious dogs in the name of fun and business, until they die miserable deaths. I used to work for a Veterinary Technician by the name of Martin Troicke, who made it his business to save as many of these dogs as possible. That was over a decade before rescued pit bulls got the Hollywood treatment they get today. I think Martin and Joe would get along just fine. You don't have to explain your reasons, it's just a matter of doing what's right. If you haven't already guessed, this is my favorite story in the collection!
Okay, so the bottom line is that Joe Ledger-UNSTOPPABLE is all aces! You get a lot to like in this jam-packed collection of goodness. There's a wide variety of stories that cover a lot of terrain. From foiling creepy date rapists and sludge dumpers (Black Water) to dealing with an island under the control of forces from beyond our understanding (Atoll). Besides the stories, the reader gets contributor bios and how to catch up with all the authors that made this celebration of Joe Ledger so memorable. Add in the great forward by Tony Eldridge who talks about Joe and another legendary hero The Equalizer and it's a three-for-one. Get it today, and that's an order! Hooah!