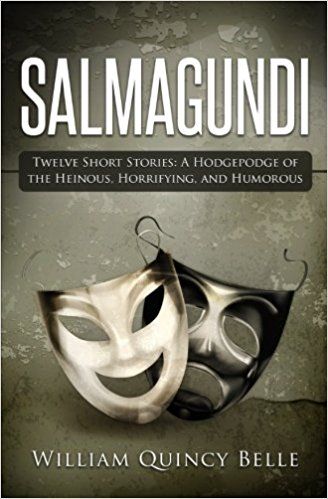 Salmagundi
William Quincy Belle
BG Ltd.
December 24, 2016
Reviewed by Brian James Lewis
It is always a pleasure to review a collection of stories from William Quincy Belle and Salmagundi lives up to its title, which means a mixture of very different things to create something new and unusual. There are twelve unique stories tucked into the pages, each with a different flavor to it. From surprise to laughter that is closely pursued by terror. Let's take a quick look around inside!
Have you ever been annoyed by a fly? I think it's safe to say that we all have. The intermittent buzzing as the damn thing zips by your face or lands on your nose is maddening! So you can imagine how Murray feels. I mean, geez! The guy just wants to finish a crossword puzzle before taking his wife to brunch. But "The Fly" changes all that until the day is anything but peaceful.
Too bad he doesn't have a new Shangdi smartphone with "The G Button" to solve all his problems with just a quick call to a very important entity! Well, sort of. Bert tries out this feature on his new phone only to be surprised and a little disappointed with who he's talking to. Sometimes things are not exactly the way you imagined they'd be. He wants to learn more, but as with many electronic devices, technical difficulties cut him off. Well at least he got a tasty pizza.
"Cathy Has Visitors" will have you cheering for this brave senior citizen when she does what she has to in an emergency that threatens the life of not only herself, but her husband as well. Speaking of threats, don't you hate all the computer hackers who ruin our computers with viruses and steal our hard earned money? If so, you'll enjoy "The Trojan Horse." Hackers beware! Mr. Alan will find you and when he does, it ain't gonna be pretty.
"No Way Out" puts us right into the action when Martin has to run for his life. A bunch of evil bad guys are after him and they won't stop until they get their man. But like many tales here, things are not as they seem. "The Game" is also a wonderful story in the same vein. Do you live with a rabid sports fan that becomes so glued to the game on TV that they aren't even aware that the police, a SWAT team, and the fire department are right across the street? Then you'll sympathize with Marge while her husband remains oblivious to the major crisis behind them. Go Team!
I give Salmagundi a five-star rating because it makes for fun reading and its slim, easily portable size. Stephen King never goes anywhere without a book and is always encouraging his constant readers to follow suit. This book makes that suggestion easy to follow. Since the tales are relatively brief, you can finish one while waiting for coffee or riding the bus to work. This is the stuff that keeps our minds working instead of just sludging out. Try a copy of Salmagundi today! You'll be glad you did.