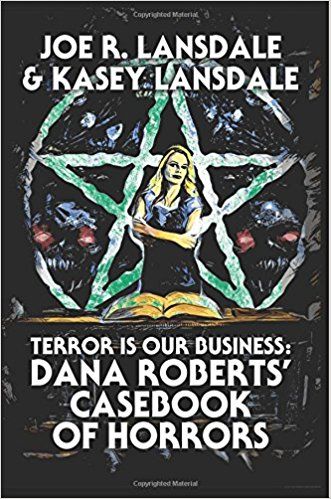 Terror is our Business: Dana Roberts' Casebook of Horrors
Joe R. Lansdale & Kasey Lansdale
Cutting Block Books
May 29, 2018
Reviewed by Brian James Lewis
In a previous review I did of a book about writing, Joe Lansdale voiced his opinion that the magic doesn't just exist in the stories, but in the storytellers and how they plied their craft. I agree heartily with that statement. Otherwise, why would people have favorite authors that they eagerly await a new release from? Even people who binge watch a television series are proving that they are fans of the writers of the show. Joe Lansdale is certainly one of my favorite authors. He is one of the great storytellers with a voice that is amiable even while he tells you about something frightening. You feel as if you are travelling with a friend. Terror is our Business: Dana Roberts' Casebook of Horrors just released from Cutting Block Books, continues that fine tradition.
Joe is also very proud of his daughter Kasey and the wide amount of cool stuff she does. Besides being a fine singer and songwriter, Kasey is also an editor and a writer. Not every writer's child decides to do the same thing their parent does. Contrary to popular belief, writing is not easy and no one is an "overnight success" despite what the entertainment rags try to tell us. Neither is fronting a band as a lead singer. You either get some broad shoulders or find something else to do where large amounts of people aren't waiting to criticize you. Even though Joe prefers to write alone, he and Kasey collaborate on a story now and then. I've read the results and enjoy the mixing of their styles. So when the opportunity to review this book came up, I definitely wanted in.
Terror is our Business: Dana Roberts' Casebook of Horrors, is a fun and frightening collection of short stories that does a whole lot of nifty stuff while entertaining readers. One major thing it does is flip-flop the well-known gentlemen's adventure club tale and put a woman in the storyteller's seat. Dana Roberts is a very real feeling lead. She is in charge and is not shy about letting folks know that. At the same time, I like how honest she is. When clashing with a new member of the supernormal world, sometimes she's scared, but not in a ridiculous "eek a mouse!" way. She keeps calm, watches her opponents, and uses whatever works. For example, in The Case of the Lighthouse Shambler a regular Coca-Cola bottle is used to save everyone's life. Cool, right? It is one hell of a good story that sets the tone for the rest of the book. It is scary, yet there are these humorous bits that round out the story and humanize it.
Dana uses assistants at times and also works alone. She doesn't much care for the term supernatural or the obscenely large amount of television shows that use it as the main topic. Hate mail be damned, I tend to agree with her that the majority of these "reality" shows fail to prove much except that you can record a lot of weird camera angles and strange sounds at abandoned buildings. Dana deals with the supernormal, which acknowledges much of what we speculative readers believe in. She's also honest enough to tell her clients that a scary haunting is actually a nest of baby birds in an air duct. But enough with who believes what, there is someone more important to talk about. Jana arrives mid-book and it doesn't take long to realize that she's the right woman for the job of being Dana's assistant.
Jana is introduced to us in the great collaboration of Blind Love and her down to earth approach to the supernormal world is perfect. I found myself laughing out loud at some of the things Jana had to say about a unique form of speed dating that involved staring into other people's eyes and no speaking. But things go from silly to weird pretty fast and soon we are far away from downtown. Things get dangerous, but Jana walks right into a creepy old house that's surrounded by a junkyard to save her friend. Once she and Dana start working together, each fills in the other's gaps, making them a force to be reckoned with no matter who you are. They are strong, but laughter helps at times so that they're not merely dry tomes of spells and facts. It's amazing how the Lansdales are able to make their characters so real. That is their storyteller magic and has to be read to be experienced.
When I started this review a couple weeks back, I wanted to break the stories down and give more inside peeks to them. But the more I read, I realized that it's not fair to do that. Joe Lansdale said that with writing we shouldn't dissect things too far, lest we ruin the magic. I think that applies well to Terror is our Business: Dana Roberts' Casebook of Horrors. These stories are fun and full of action. Read them and enjoy the escape they give you. One thing that is brought up a lot is that one might compare Dana and Jana to Holmes and Watson. You might do that. It's definitely a good point of reference, but I think this collection of stories does a lot more than that. Dana Roberts and Jana are about NOW. This pleasant read puts real women firmly in charge and conveys what we're trying to do in the speculative fiction community. We want to empower people, expand diversity, and make sure that those who feel marginalized are included. The Lansdales have done that along with publisher Cutting Block Books and that is something to be proud of! FIVE STARS. Great reading, well presented, overall great message…What are you waiting for? Get your copy of Terror is our Business: Dana Roberts' Casebook of Horrors today!