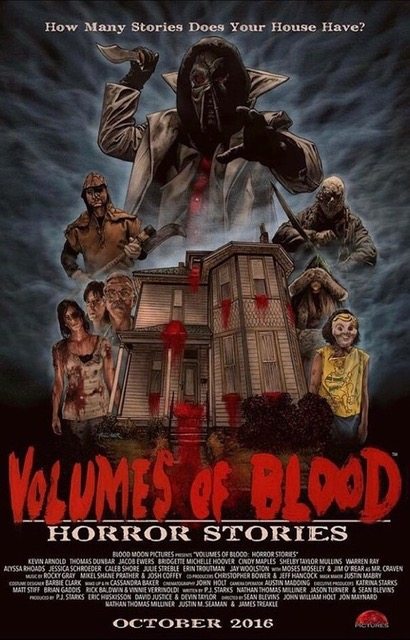 Volumes of Blood Horror Stories
Directed by Sean Blevins, John William Holt, Jon Maynard, Nathan Thomas Milliner, Justin Seaman, and James Treakle
Written by Nathan Thomas Milliner
Starring Cindy Maples, Moses Mosely, Theo Kostaridis, and Thomas Dunbar
Released October 2016
Reviewed by Alyssa Hunt
I always have to keep in mind that many indie horror movies are released by first-time moviemakers. Their style isn't developed and the selection of actors is always far and between. I believe Volumes of Blood Horror Stories is one of those indie movies. Though the founders of Dark Cuts Entertainment are newly established (website states ©2017), the presidents have been working for years.
Volumes of Blood Horror Stories is a 118-minute yawn of shorts brought together by six directors. Each story is a sort of chapter, but that's not established until the viewer is at least twenty minutes into the film. The movie doesn't even show its opening until said time and by then, you're trapped within the movie's sanguinary web.
Loaded with jarring, punk music, buckets of fake blood, and anemic acting, VoBHS does very little for those looking for a frighteningly good time. Holding no true theme, the anthology bounces from the nonsensical to themes such as Father's Day, Halloween, and Thanksgiving, offering unnecessary amounts of blood and bore.
Volumes of Blood Horror Stories released on the 29th of October 2016.