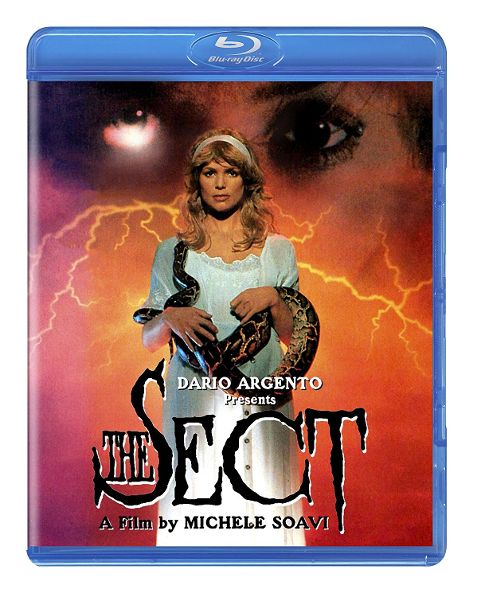 The Sect
Director: Michele Soavi
Stars: Kelly Curtis, Herbert Lom, Mariangela Giordano
Reviewed by Brian M. Sammons
The cover to this new Blu-ray release from Scorpion Releasing give top billing to Italian horror maestro: Dario Argento. Now this isn't an Argento movie. Not really. He is one of three that wrote it and he produced it, but Michele Soavi also worked on the script and he's the director. Besides this movie, Soavi also directed the awesome slasher/gallio mashup StageFright from1987, and the criminally overlooked Cemetery Man from 1994. Also, weird bit of trivia, he is also the half-metal-faced creep in Lamberto Bava's 1985 Demons. So Michele Soavi has been around a genre film or two in his time, and Argento should need any introduction, so then how is this little known film from 1991? Something most people will remember, if they do at all, under that AKA title: The Devil's Daughter. Well let's find out.
A young woman almost hits an old man with her car and the man has a strange package he is overly protective of. The lady feels real bad, so she invites the old dude to stay at her house, where she lives alone with just her pet rabbit, until he feels better. Gee, what could go wrong with that? Well first the old man puts a strange bug up her nose while she sleeps, then he pulls open a hidden manhole cover in the basement that leads to…hell? And then he dies. Things only go downhill from there. And I mean that in both the film's plot and the actual film.
The Sect is a standard Satan cult trying to bring the antichrist into the world flick. It doesn't do a thing that you haven't seen before, but with Michele Soavi behind the camera, at least is looks great doing what it does. The movie does have the occasional good gory bit, and heaps of atmosphere, but perhaps the biggest problem with the movie is that it is slow. Very slow. And at nearly two hours long, it is way overlong and it sort of trudges along. A good half hour could have been easily removed and the film would have been better for it. The rest of the film is good, but not great, but that run-time was the real fun killer for me. Very few horror movies warrant the two hour treatment, and The Sect is not one of those films.
On to the special features on this new Blu-ray from Scorpion Releasing. First off, they gave the film an excellent 2K video restoration, making this the best this film has ever looked. There is an interview with actor Tomas Arana and another, vintage interview with director Michele Soavi. And that's it, so it's not barebones but it's not exactly overloaded with extras, either.
The Sect is a good-looking film, and this new Blu-ray has this movie looking better than ever, but it's only a so-so film that is way too long. It has none of the style or fun of Soavi's Stage Fright or Cemetery Man, but it's not horrible, either. If you are an ardent fan of Satanic/witchcraft movies, or an admirer of the director, then give this one a shot. If that's not you, and you are not a fan of very long films, then give this one a pass. So consider this one mildly recommended with a few caveats thrown in for good measure.