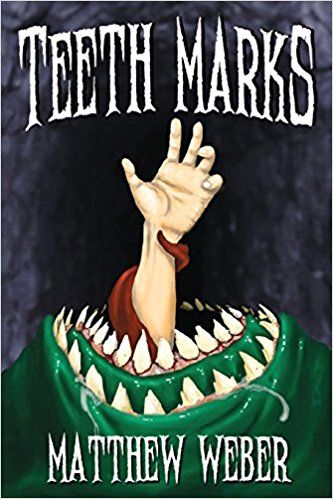 Teeth Marks
Matthew Weber
Pint Bottle Press
August 5, 2017
Reviewed by Brian James Lewis
WARNING: This book contains language and scenes that may offend conservative viewers. If you are easily offended, please make another choice. For the rest of you rough and ready horror fans-You're going to like this book a LOT.
In Matthew Weber's Teeth Marks the power of the stories shines through unobstructed and they are awesome! This collection offers the reader stories with great titles like: Suburban Facebreaker, Of All The Nights, Slice of Heaven, The Red Card, and Louise-Your Shed's On Fire. Twelve stories over 200 pages and there is not a sleeper in the bunch. Every story hits you with the power of brass knuckles to the face. Are you ready to take this trip that I'm encouraging you to go on? Then let's get going!
Where to start? Let's try, Burt's Top Secret Spice Mix. Oops! Don't eat it, just "relish" the story. Burt's Sandwich Shop is the place for working class folks to grab a tasty lunch at a low price. Once they become regulars, Burt bestows the honor of naming them by their orders in his head. So as soon as "Hot dog-no relish" walks in, he's got her order cooking. Cool, right? Indeed it is! Unfortunately, life is more than toasted buns and sunny side up egg sandwiches for Burt and the other merchants who rent space in the Main Street Plaza. They're all bullied by a big blob of profit-stealing fat who goes by the name of Larry. He shakes down the renters for "protection" and if they don't pay, he destroys their stores. But Larry picks on the wrong guy when he leans on the mild mannered Burt. He just doesn't know it until he dies after chomping down a heaping helping of Burt's Top Secret Spice Mix in the free lunch he demands from Burt. But the story doesn't end there. See, Larry has an even bigger creepy brother by the name of Julius who takes over shafting the renters but makes the mistake of forcing Burt to cook him Larry's favorite meal. Burt is happy to oblige him. There's a lot more going on in this story, but I'm here to tantalize your taste buds, not spoil your meal.
Speaking of eating, check out Of All The Nights! This is an intense story about a mom and her kid getting robbed by a couple of lowbrow losers who prey on the weak and innocent. However, these dickheads picked the wrong night of the year to pull their stunt on Wanda and Bryan. Blackstone Passover is the night that the powerful thing inside the mountain that the mining community depends upon for its resources exacts its tithe. Special arrangements are made among the villagers to keep themselves alive. Offerings of live chickens to the beast keep it happy, doors are bolted, and everyone stays inside. If the thing of the mountain is happy, life continues in a positive direction. However, tonight is not going to turn out well. Thanks to the two non-believing bozos who kill Wanda's chickens and insist on leaving the safety of her home with what they've stolen. Despite her son's righteous fumings, Wanda lets the fellows out the door. Why the hell should she care about these jerks that beat her up for all the money she had? It doesn't take long for the beast to spot the robbers and dispose of them quickly and painfully.
Man, I seriously love Teeth Marks! Each story is better than the first and gives the reader a shock at the endings. Can a stalker be a hero? Should a person do whatever it takes for their 15 minutes of fame? Wouldn't it be great if there was something to protect abused children from sadistic adults? Find out about those questions and more inside this book! Check out Pint Bottle Press today for some great reading that is high quality and super scary! Matthew Weber is one hell of a writer. Don't miss out! Grab a copy of Teeth Marks today!