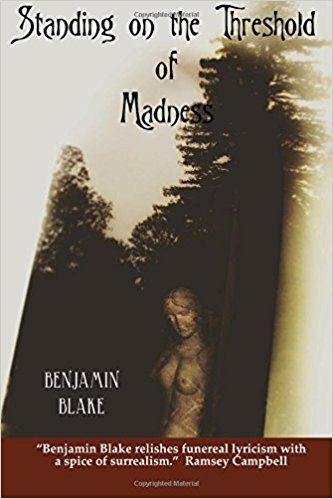 Standing on the Threshold of Madness
Benjamin Blake
Parallel Universe Publications
March 21, 2017
Reviewed by Brian James Lewis
If you thought you knew everything about Benjamin Blake after reading his novel The Devil's Children last year, well…guess again. While that book is a fun romp through the protagonists' hometown somewhat similar to The Goonies, but with more drinking and swearing, Standing on the Threshold of Madness is a whole different monster. One big reason is that this new book is a collection of Blake's poetry and no one is laughing here.
Blake's poetry paints us a world that exists in legends and shadows. It might not be obvious to us, but he knows where to look. Places like The Casting Couch where B-movie queens still exist in the flicker of celluloid and warbling soundtracks. We are in the places Where the Dead Come to Party. No lie! I really dig this poem a lot. Something about the alarming onset maybe. To quote from Blake's poem:
The record player keeps coming alive at night
Along with the living room lights   
And the television set
I don't know about you, but I'd find that alarming in my own home. Apparently Blake does as well, because he ends with:
Somebody call a priest
And the furniture movers
This is too much for the living to bear
This is poetry for the people. None of that oddly creepy ethereal shit for us! Blake puts it right out there on the line. If you can't pick this stuff up, then your arms are broken! Ready for another blast? Check this out from Funereal Party:
The typewriter keys
Clack out a rhythm
As skeletal jazzmen
Tap-dance across the wooden floorboards
Damn! As the late Mr. Kerouac would have said, "Blow baby! Blow!" This is the good stuff. The top shelf spirits. All killer and no filler. You got that, dad? Benjamin Blake has a unique way of capturing the imagery of the Beat poets with a wry chill and occult knowledge to sing his own songs. Well done! My hat is off to you, sir!
As a fellow writer, I really liked the final poem in the collection. Rebirth is a perfect setting of how many of us write:
It begins when the door shuts
And the light from the desk-lamp spills out
Onto books and rumpled bed sheets
Sometime in the middle of the night
Am I right? No matter what your preference of writing tool, this is what we do. Late at night, because that's when the muse arrives, we steal some time back to ourselves and write. It is required for our survival, period.
I don't think there's much question as to how I feel about Standing on the Threshold of Madness by Benjamin Blake. But let me just confirm that I really enjoyed reading this awesome collection of poems. In fact, I keep it nearby so that I can dip into the pages occasionally for a fix. If you groove on speculative fiction, the weird, the dark places – you're going to dig this collection! The flow is great and the subject matter is right. Once again, Parallel Universe does not disappoint. Grab a copy of this rare gem today!