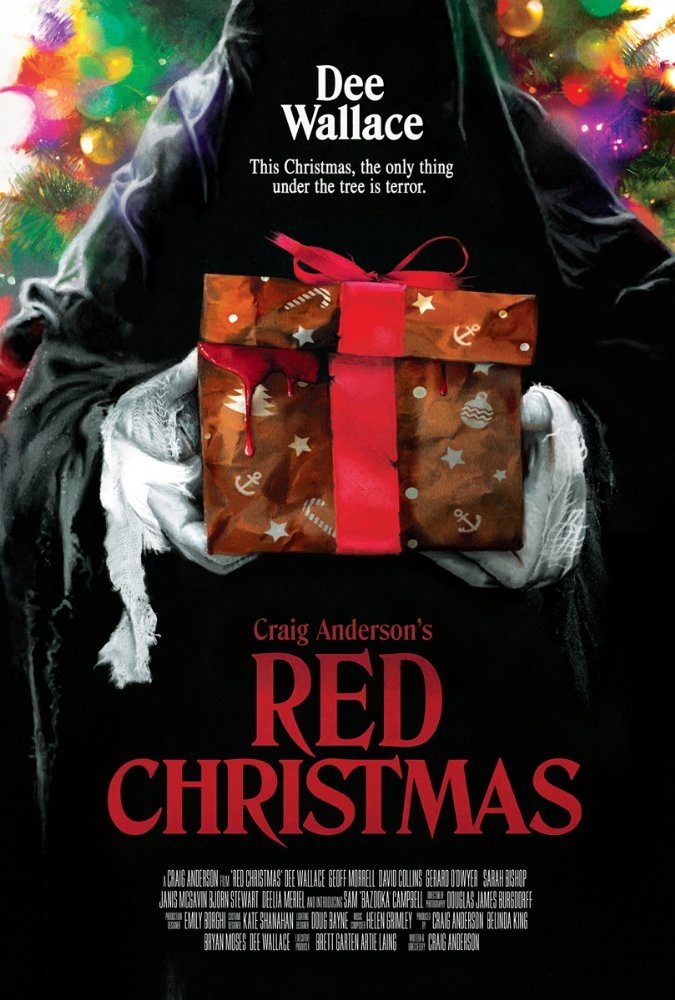 Red Christmas
Directed and Written Craig Anderson
Produced by Craig Anderson, Belinda King, Bryan Moses, and Dee Wallace
Starring Dee Wallace, Geoff Morrel, Sarah Bishop, James McGavin, David Collins, Bjorn Stewart, and Sam Campbell as Cletus
Released 25 August 2017
Reviewed by Alyssa Hunt
I grew up with Dee Wallace on both the tv and silver screen. She was big time, but when I saw her in this movie's preview, I got worried. I thought: Oh boy, here's another bad one. But I was wrong. Red Christmas was a pretty cool movie.
Though it opens with a distasteful intro, the movie morphs into a happy family's Christmas day, complete with a huge holiday tree and lots of baking. All of that rapidly changes when a stranger arrives at their door covered in a ragged cloak and bandages, claiming the need to read a message to Mother. Naturally he's distasteful, but it's not 'til his words strike a chord with the mother of the house, played by Dee Wallace, that things ignite. It doesn't stop until the very end.
As the credits rolled, I sat in surprise; I loved this movie! It was good and I'm not a fan of slasher films! The acting was a bit cheesy, but they weren't amateurs. The cinematography was also a bit shaky; I think that was intentional, but the story was excellent. I liked what happened and why it all happened. All that positivity left me with just one issue.
Red Christmas introduced our protagonist, Cletus, as a slow-shuffling, afflicted individual. So how in the world did he suddenly turn into a freaking NINJA? I can't go into details without offering up SPOILERS, but I can tell you it was hilarious how some of the murders took place. I kept shouting at the screen: How'd he do that? Really, it didn't matter; the movie was good and I even enjoyed the ending. Sad but good.
Red Christmas released in August of this year and is available on Blu-ray, DVD, and VOD as of October 17th from Artsploitation. Check it out; I think you'll be pleasantly surprised.