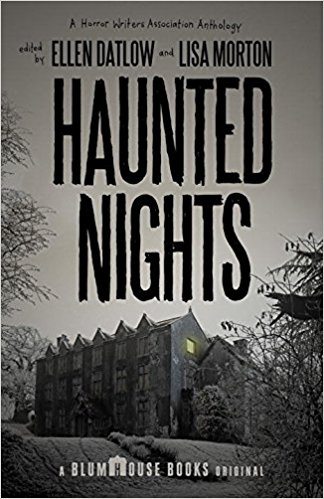 HAUNTED NIGHTS: A Horror Writers Association Anthology
Edited by Ellen Datlow and Lisa Morton
To Be Released October 3, 2017
A Blumhouse/Anchor Books Original
Reviewed by Brian James Lewis
I don't know about you, but I find life a bit more bearable when I have something to look forward to. Especially when that thing is going to be terrifying! I don't want a teddy bear or a hug. No, what I want is to have my warped brain pushed even farther out of the normal zone! Does this sound like you as well? Well good! Because we've got just what you're looking for!
Haunted Nights is coming to bend your mind and terrify you with stories about scheming jack-o'-lanterns, murderous urban legends, vengeful ghosts, and parties gone very, very wrong. Here are sixteen brand-new, fresh-from-the-grave stories that are going to rock your world! This anthology will be available on October 3rd in celebration of all things Halloween and its cousins, Devil's Night, All Souls' Day, and Dia de los Muertos aka Day of The Dead. Who better to edit and collect these tales than award-winning editor Ellen Datlow and one of the world's leading Halloween experts, Lisa Morton? Combined with a stellar cast of HWA writers, this witches' brew practically guarantees bad dreams. You might wake up on the floor curled into the fetal position and whimpering, or you might laugh out loud. Either way, it's going to be one Hell of a ride!
With so much talent in one place, it is hard to pick which stories to preview for you wonderful people, but here's what I came up with.  For amazingly intricate detail that I could see in my head, Eric J. Guignard's story, A Kingdom of Sugar Skulls and Marigolds, just blew my mind! This tale of love, magic, and possible redemption is beautiful and terrifying all at the same time. A young man carves the wrong name into his sugar skull, contacting an entity named Saint instead of his dead friend Santi, and gets some much-needed schooling about standing strong and following your heart. It is important to do the right thing on the Day of The Dead!
For a different taste of Horror, S.P. Miskowski's story We're Never Inviting Amber Again starts on an entertaining note. The man of the house is sick and tired of his wife's sister because she always ruins every get-together, romantic moment, and just has crazy misadventures. He's also sick of her because she's his ex. That's a little creepy in itself, but Drew is a self-righteous dude who claims that everything was Amber's fault. Even when it turns out that he's an uncaring jerk who can't even honor Amber's simple request that he and his wife keep the backyard lit by jack-o'-lanterns. He dismisses her request as silly – until he finds himself staring up at a giant with a werewolf mask stuck on its head in his backyard. The party goes down the toilet, as everyone does a mass exodus and blames Drew for all the shenanigans, not Amber. Even after seeing the truth, he won't admit it.
Paul Kane's chilling tale The Turn takes us on a baffling journey of twists and turns. There is something following people on Halloween night and making them turn and look. Once they look, the rules say that it's okay for the evil thing to kill them. The thing rationalizes this by saying that he is helping people over to the other side. On this same night, there is another man also following the rules. These rules are required to protect oneself from evil spirits and things that may do him in. Unlike the roaming killer, this man is confined to his home by the rules. To step outdoors could be lethal! But they meet when the man is forced to run to the hospital because his Gran is dying. The thing catches up and makes the man turn and see him for who he really is. Then he kills the man, which turns out to be a boon for the dead man. But not for the killer, because something is coming up behind him and what happens next is not going to be good.
To round things out, how about a nice story about an old baker man who knows how to make things just like, A Small Taste of the Old Country? What could be scary about that? Don't you worry, Jonathan Maberry will have you spellbound with his delicious tale of culinary revenge! No natives of Argentina in the year 1948 should be so familiar with old school German cooking as to be able to call it by name, unless they're not telling the truth. Josef Becker finds such men and lets them identify themselves by offering them his wares. It just so happens to be All Souls Week, which for Herr Becker is a very important time because all of his family members are dead thanks to the evils of war. During the week, the souls are encouraged to visit and share the world of the living. But what about those who are still living? The people that caused so many deaths? Perhaps the souls of the dead would like a visit with them as well?
My best recommendation to find out the specifics of these and twelve other fine stories, is to make sure to be at your local bookseller on October 3rd! Or, if you don't wish to take chances, pre-order Haunted Nights today! This is a crazy awesome anthology that, honestly, I'm kind of in love with. Get it! You will enjoy it!