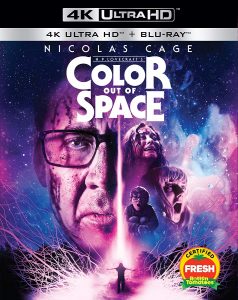 Color Out Of Space – Blu-ray review
Director: Richard Stanley
Stars: Nicolas Cage, Joely Richardson, Madeleine Arthur
Reviewed by Brian M. Sammons
If you know anything about my tastes, then you know my favorite author is one H.P. Lovecraft. His brand of cosmic horror is my cup of tea. Sadly, he is very difficult to bring to film successfully. There are plenty of movies out there that begin with "H.P. Lovecraft's…" because all of his work is in the public domain and anyone can use his name as a selling point, even if the filmmakers lack talent and the movie has nothing to do with anything Lovecraft ever wrote. A great example of this is Ulli Lommel's The Tomb from 2007 that has NOTHING to do with HPL's story of the same name, despite having Lovecraft's name all over it. So this is one reason I was looking forward to this latest take of Lovecraft's most adapted story (seriously, five other movies have tried to tackle this one, with various success, or lack thereof) with more than a bit of trepidation.
The other reason for my worry was the director helming the film, Richard Stanley. Not only had he not made a feature film in over two decades, but truth be told, I was never a big fan of his work. I know he has his faithful fans, but for me, his filmmaking was nothing special. So we had a so-so director (by my estimation) making a movie after 20+ years of inactivity, adapting the notoriously difficult to get right Lovecraft, and not only that, but my personal favorite H.P. Lovecraft story.
And then you add in the star Nicholas Cage. Yes, the "No, not the bees" Nic Cage… Gee, what could go wrong?
Surprisingly, and thankfully, nothing.
Yes, despite all my misgivings, this movie has completely won me over. It is one of, if not the, most faithful-to-Lovecraft movie ever made. While the story has been changed slightly here and there, largely to update it to the modern day (it was written in 1927), it feels like the HPL story. As for how it looks, it looks amazing. This is a story about an indescribable color; how do you bright that to the big screen? Well, if you are Richard Stanley, with equal parts jaw-dropping beauty and lush horror. The cinematography is stunning and the use of color (heh heh) is second to none, and yes, I'm including Dario Argento in that. Then the special effects, both practical and digital, are well done, gloriously grotesque, and have more of a bit of John Carpenter's The Thing in them. Even Nicholas Cage, someone who can be a good actor but for years, well, hasn't been, is good here. He is restrained as the haunted father of a family under attack from unknown alien terror. Yes, he goes into epic "Cageness" at the film's climax, but when he does, it is more than warranted. All the actors in this do good work, but this glimpse of what Cage used to be, and still can be when he wants, was especially surprising.
Let's get to those colorful extras RLJE Films put out on this 4K and Blu-ray two pack. First there is a "making of" featurette that starts off with a Lovecraft quote, so that makes me happy. There are a collection of deleted scenes and a still gallery. And sadly, that's it. While not bare bones, I wish there was more meat here, specifically a director's commentary, but hey, if wishes were indescribable cosmic horrors…
Color Out of Space is one of the most faithful adaptations of H.P. Lovecraft to come out on film today. It looks stunning, it captures the essence of cosmic horror, and it makes me really want to see Richard Stanley's next film, an adaptation of Lovecraft's The Dunwich Horror. Oh hell yeah! But until that comes out, thank the Old Ones that we have Color Out of Space. Consider it beyond highly recommended.