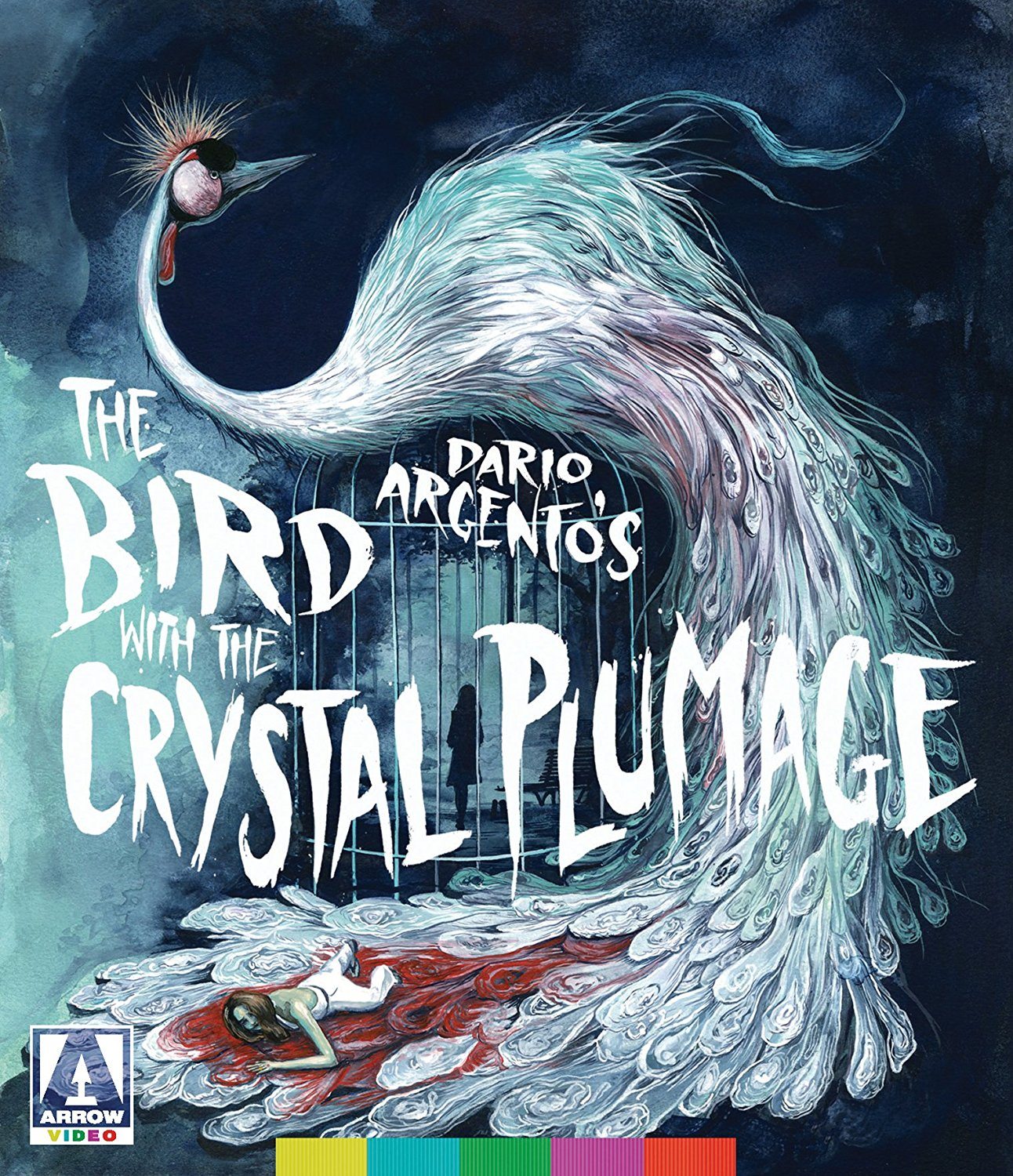 Bird with the Crystal Plumage – Blu-ray review
1970
Director: Dario Argento
Stars: Tony Musante, Suzy Kendall, Enrico Maria Salerno
Reviewed by Brian M. Sammons
Arrow Video continues tearing through the Argento catalog, this time bringing "the Italian Hitchcock's" first movie to glorious High-Def. The question is; should we care? I mean, it is a film by Dario Argento, but it is his first film. Does everyone knock it out of the park their first time at bat? Well no, but come on…it's Argento! I have seen this film only once, decades ago, and remembered next to nothing about it; I gave the old maestro the benefit of the doubt and gladly put this one into my BD player. Was this early Argento effort a pretty birdy, or just another too fondly thought of turkey? Let's find out.
An American writer in Rome named Sam sees an attack on a woman in an art gallery by the staple of giallo movies: a figure in a trench coat, face-concealing hat, and the trademark black gloves. He intervenes and the woman lives, but in doing so the local police take his passport, as he is the only one to see the psycho who has so far sliced up three other woman. This also means he becomes the target of said psycho. When the killer tries to add Sam to his body count total, twice, the writer screws up his American gumption and decides to look into the matter and the mystery himself. Naturally more bodies pile up, the plot gets a bit too confusing too fast, and Argento adds his own quirky touches, like a cat-eating artist who lives in a room only accessible by a ladder to a second floor window. Yes, really.
Now if you go into this movie with Argento's bloody horror films fresh in your mind, expecting more of the same here, I fear you may be a tad disappointed. While technically a giallo film, Bird might be the most "traditional" murder mystery movie he's made. What I mean by that is while there is some blood, it's not up to the usual Dario Argento standards of quantity or quality. Also, there are some murders to be sure, but they're sort of basic, and nowhere near as creative or awe-inspiring as other movies from the director. But most damning of all, while I thought the film was good, I didn't think it was great and also found it at times to be a bit long. I can't remember ever saying that about another classic Argento film, so take that how you will.
On to the extras that Arrow Video pack in with this new Blu-ray/DVD combo release. First the physical goodies. Yes, the cover art is double-sided, as usual, but there is also a large, double-sided wall poster as well. Then there is a 60-page collector's booklet, six lobby cards, and a thick cardboard slipcase. Onto the on-disc extras. First there is an audio commentary with giallo expert Troy Howarth. Then there is a new interview with Argento himself that's over 31 minutes, another with critic Kat Ellinger about the themes in the movie that's 32 minutes long, a third with actor Gildo Di Marco that runs 22 minutes, an archival discussion with the late Eva Renzi from 2005 that is over 11 minutes, and a visual essay on Argento's filmmaking that is 21 minutes. And if 117 minutes of extras wasn't enough for you, it comes with a collection of trailers.
The Bird with the Crystal Plumage isn't my favorite Argento film (for the record that would be Deep Red) but it is still pretty darn good. Also it's his first film, and that means it is simply historic. For that reason alone it deserves to be in the home library of any giallo, mystery, and/or horror fan. I can easily recommend it.