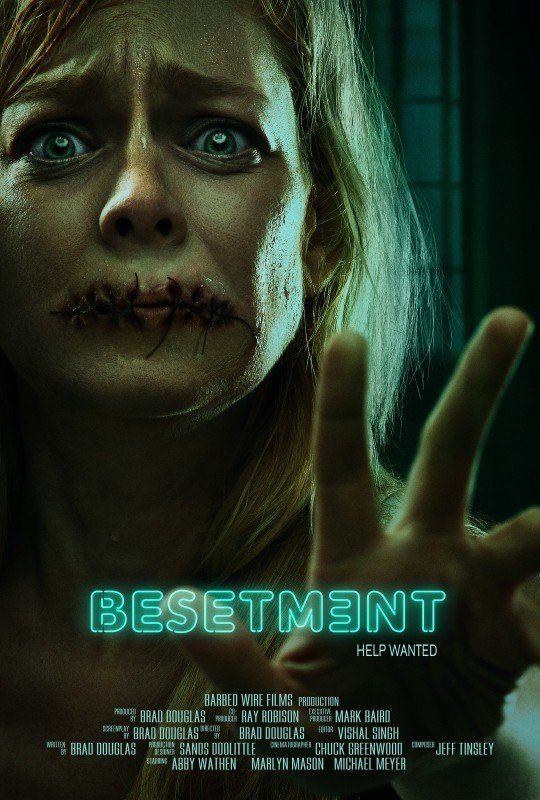 Besetment
June 2017
Written, Produced & Directed by Brad Douglas
Starred Abby Wathan, Marlyn Mason, and Michael Meyer
Reviewed by A. Renee Hunt
This is one of the good ones!
I was a little concerned when I heard the dot matrix printer running the background. I even ignored the "Who's Clark Gable" question- who doesn't know him? I watched with an open mind, but expected a thin storyline for a mild thriller. Was my preconceived notion on the up & up…?
Besetment is about Amanda: unemployed and no longer capable of pulling from the state check, unwanted by her alcoholic mother, and unable to find some self-fulfillment. All she wants is to stand on her own two feet, but it seems the cards are stacked against her. Until she receives a call, asking her to interview for a position at the Oregon Hotel. Set back in the furthest reaches of a sleepy- no, near deserted town, she accepts the job. Now she's got full-time work, a roof over her head and… a whole lotta problems!
Here is where the thrills kick in! Besetment is one of the better independent movies I've seen all year! The budget is fair, fits the location and setting, and the acting wasn't too shabby. And the score removed the cheesiness one expects and associates with indie movies. The story is direct and keeps the viewer. Honestly, I love this movie—
But not the ending…
I know endings can be difficult, but this ending deflated. I expected some sort of twist, but not the hokey one given. STILL, Besetment is an fun watch!