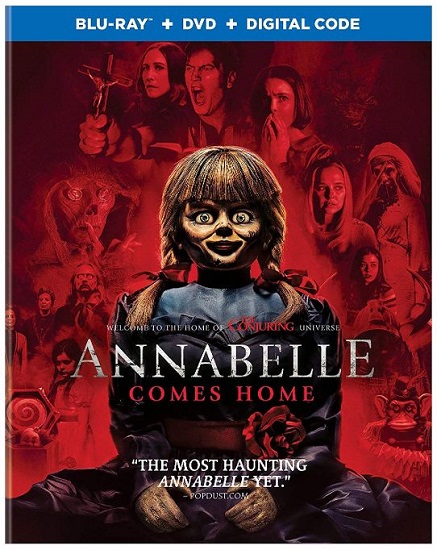 Annabelle Comes Home
2019
Director: Gary Dauberman
Stars: Vera Farmiga, Patrick Wilson, Mckenna Grace
Reviewed by Brian M. Sammons
I am starting to get sick of "The Conjuring Universe," or as my wife calls it, the Waniverse. They started off fine, with James Wan making some fun, if not altogether good, fright flicks, but then they just kept going, and going, and going. Now there are tangents and spin-offs that have nothing (or at least very little) to do with the original films, with one spin-off, Annabelle, now having three films of her own. And going into this newest movie about the evil doll, I was worried, as the last two "Conjuring Universe" movies, The Nun and The Legend of La Llorona, were…well…kind of garbage. Also, lets face it, the two previous Annabelle movies are only 50% good, with the first one being horrible and only the talents of director David F. Sandberg saving the second one from a similar fate. So, how was this third time at bat for this deadly dolly? Let's find out.
The majority of the movie takes place over a single night when the Warrens go out and leave their young daughter home with a babysitter and the babysitter's friend. Yep, three young girls alone in a house with a room filled to the brim with actually haunted and possessed items of murder, misery, and madness. What could go wrong? Well, when one of the girls goes snooping and lets Annabelle out of her box, all hell (ha) breaks loose. Soon the three young ladies are being chased all over the house by various ghouls and ghosts, but surprisingly, not so much by Annabelle. Yes, the doll does very little here, instead acting as a magnet to summon other spooks to do the majority of the jump scaring here. And therein lies my biggest fear with this movie: more spin-offs. I can see the money-hungry producers of this film just salivating at the idea to turn newcomers like the Ferryman, the Bloody Bride, and hell, why not the generic Werewolf, too, into their own movies and franchises. Please, please, just no.
That being said, I did have a fun time with this movie. Yes, it is far from original as the Wan-inspired playbook is getting very thin by now, but first-time director Gary Dauberman seems to know what he's doing. There are some moments of tension and suspense to be found here and at least not every single scare is tied to a lame jump scare, as in The Nun and La Llorona movies. I also liked the three young leads, and while Vera Farmiga and Patrick Wilson are not in this a lot (despite getting top billing), I like seeing them back together here.
On to the extras that Warner Brothers put out on this Blu-ray/DVD digital combo pack. There are three featurettes to be found here; one is a behind-the-scenes bit about three of the ghosts that appear in the film. There is one about the Warrens' artifact room and some of the creepy items kept therein. The third is about Vera Farmiga and Patrick Wilson playing the (in)famous Warrens themselves. Last but not least there is a collection of deleted scenes that comes complete with an unused, alternate ending.
I enjoyed my time with Annabelle Comes Home. It's a Halloween haunted house kind of film: fun, brief, it might make you gasp and laugh, and it is nothing to be taken too seriously. If this is the last Annabelle film (and I do hope it is), then it's a fine way for the franchise to end. Fans of the extended Waniverse will want to get this as it is much better that the more recent films in the series. However, even if you've never seen any of The Conjuring movies, this film can stand on its own and deliver a good time. So for those reasons I can recommend Annabelle Comes Home.