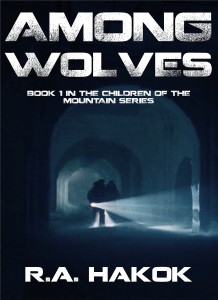 Among Wolves
R.A. Hakok
July 10th, 2015
Reviewed by Stuart Conover
In Among Wolves we have R.A. Hakok giving us the first story in his Children of the Mountain series. Before I get into the review I'm going to say that I'm glad it is labeled as a series as the world building we're given has so many possibilities. Having quite enjoyed his first novel, Viable, I knew that I wanted to pick this one up and check it out to see if it started off a little quicker, which was my only real complaint about his first work.
So how does this one stack up? First off let me voice that my complaint about the first novel is nonexistent here. We have non-stop action and suspense in a new post-apocalyptic tale that you'll love reading.
A nuclear fallout has occurred and our survivors are a group of first graders (who were visiting the White House), the President of what was once the United States, and members of his staff.
Ten years have passed and we follow Gabriel and the rest of his class and where they are in their lives now. From a tale of budding love with one of his fellow classmates to a murder mystery to a trek across the barren landscape that takes Gabriel to a bunker that may have supplies, there is a lot going on in the novel. Hakok masterly weaves through it and his writing has clearly grown in leaps and bounds from his first novel which I'm quite happy to see.
This is well worth picking up if you are a fan of post-apocalyptic environments. The story is well written, riveting, and has some great character development in it as well. This will be a quick read for many as once you get into it there won't be a chance to put it down until the last page! With most of the world dead, I'm really dying to find out where our characters will go from here and what or who else they might discover in the next installment.