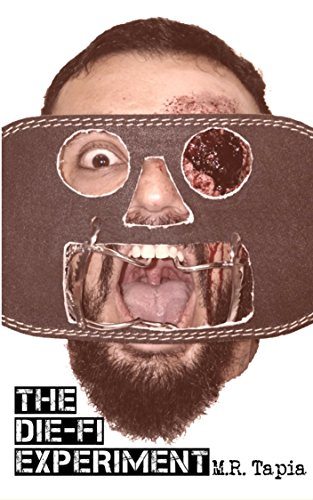 The Die-Fi Experiment
M.R. Tapia
Hindered Souls Press
July 21st, 2017
Reviewed By: Stuart Conover
In The Die-Fi Experiment we see M.R. Tapia mixing society's obsession with social media, a love story, and horror! This work is horror with a sprinkle of humor mixed in for flavor that is cut across a few different time periods. We have the happy couple's relationship grow before our eyes, the present which show them trying to survive the ordeal that they find themselves in, and the social commentary on social media as a final layer. While it breaks up the pacing a bit, this seems to be the perfect way to mix the story together as it progresses from start to finish.
Set in Japan, we have the newlyweds enjoying their honeymoon when they are approached with an offer. The latest cell phone that everyone wants is up for grabs to a few select people who can get through a unique maze! Now, when something seems too good to be true it usually is but sadly these two go in on it. After agreeing to the terms, they are kidnapped and awaken in one of those wacky gameshows which Japan is known for. Only, while the wackiness is there they don't tend to be known for murder.
Marie, the wife, awakens to find that her husband and another woman are strapped to a chair. Beside her is a man and she must compete with him as to who will be the winner. Failing to win means horrible consequences and as the competition goes on you see that more and more of the world is starting to tune in. As there is an increase in eyes on these challenges they get even harsher for the contestants and their partners. The ultimate irony is that the final challenge will pit the spouses against one another in a fight to the death.
This isn't likely what the two had in mind for their first lover's quarrel.
There have been plenty of examples in the past of horror mixed with gameshows and if done right always have the potential to be a good read or watch. This one does an excellent job of mixing in social media to the affair and will keep you turning pages to see what happens next. Tapia's creation covers ground which has been long tread but does so creatively and with a few new original layers. Either of these two aspects would make it worth the read alone and together, fans of this kind of an idea will love what the author has put down on paper.
A fun read and well worth taking a look at!