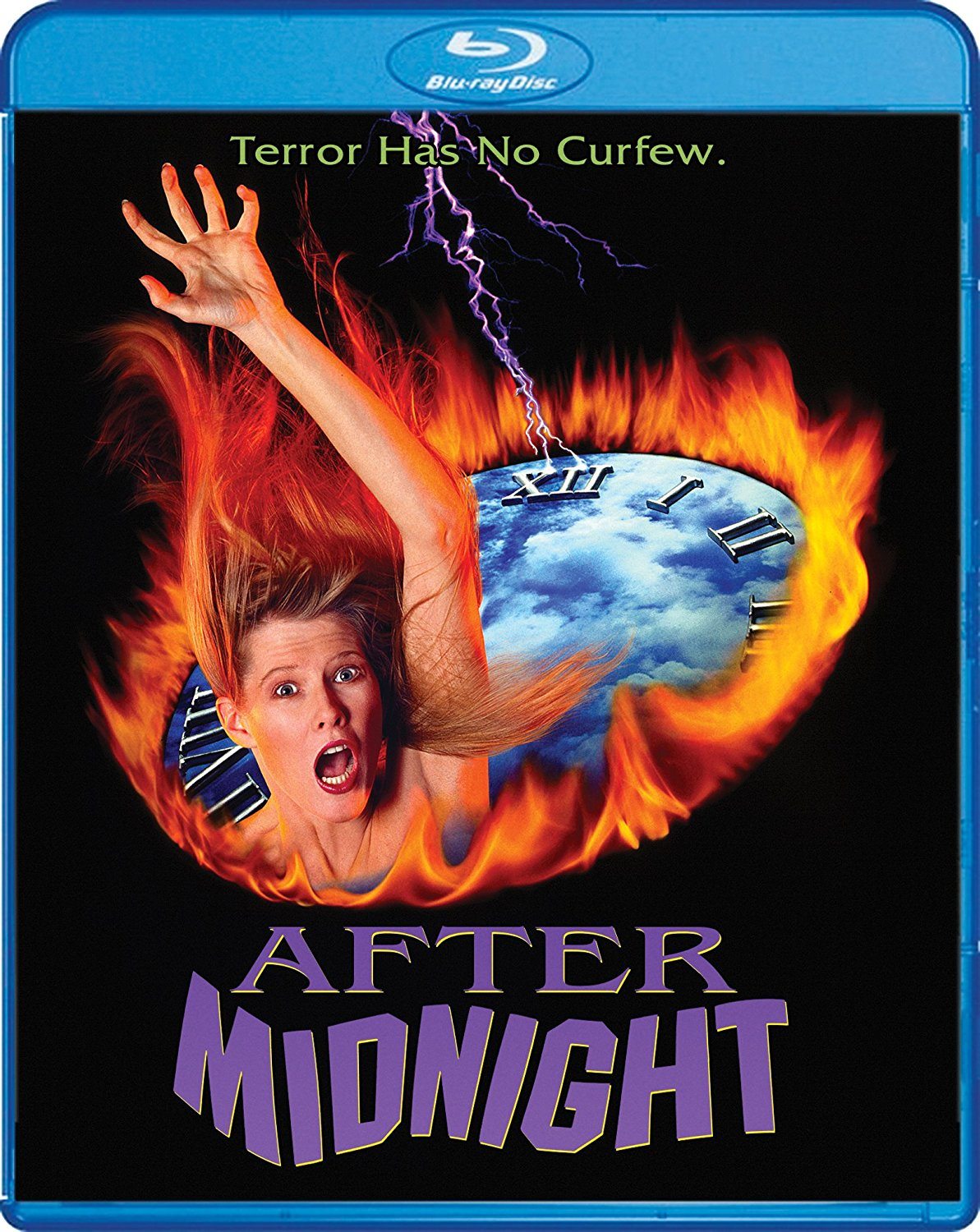 After Midnight
1989
Directors: Jim Wheat, Ken Wheat
Stars: Jillian McWhirter, Pamela Adlon, Ramy Zada
Reviewed by Brian M. Sammons
I love anthologies and here is a little known one from the tail end of the 80s. It slipped under a lot of radars; is there a reason for that in terms of quality, or was it just poor marketing? Thankfully Scream Factory is not afraid of putting out the lesser-known horror flicks of yesteryear, so come with me as what goes on After Midnight.
A new college professor is teaching a class on the psychology of fear. The school quickly doesn't approve of his unconventional teaching methods, so he invites a small group of students to his house at night, of course, for a little private study in fear. This is the wraparound story for this anthology and it's both longer and more important as connective tissue between the different tails than most spook story collections. In fact, it is the most important part of the move and is a horror segment in and of itself. But in addition to it, there are three other stories to tell this dark and stormy night.
The first one is the height of cliché, a married couple are taking a scenic drive when they get double flat tires. The only place they can go for help is a typical dark and spooky mansion where, years ago, a bunch of gory murders happened. Yeah, you can guess were this one is going, but I will give it some credit, there might be a swerve or two along the way.
The next bit is about four high school girls looking to go downtown and sneak into some club they not old enough to enter for some grownup fun. Eagle-eyed horror fans will recognize two of the girls from big fright franchises. There's the dark-haired beauty "Sam" (Judie Aronson) from Friday the 13th: The Final Chapter and the blonde girl who Freddy "Welcome(d) to prime time, bitch!" in A Nightmare on Elm Street 3: Dream Warriors. These ladies soon run out of gas (naturally) and then run afoul of a creepy homeless guy and his pack of vicious dogs.
The third and final story is about an overnight answering service operation (for our younger readers, Google that now obsolete profession to see what it was) with a broken leg menaced by a caller with some crazy issues. As in he's crazy. Not much more than that, but the suspense and tension is good.
Then the movie goes back to the professor and his selected students for a double dose on surprises, neither of which makes all that much sense, but both are fun. Or a late 80s horror anthology at a time such things just weren't being made, that's all I expected from it: some fun, and it does deliver that.
Okay, let's get to those extras on this new Blu-ray from Scream Factory. First there is an audio commentary with the writer/producer/director brother team of Ken and Jim Wheat. There is an interview with actress Jillian McWhirter who plays lead girl, and unexplained psychic Allison that runs just under seven minutes long. There is also a theatrical trailer and…well that's it. Not a ton of goodies like most Scream Factory releases, but more that I would have guess for a lost little film from 1989.
After Midnight is a good addition to any horror lover's anthology section of their movie library. It doesn't do anything too amazing or original, but what it does it does well and I think you will have fun with it. So consider After Midnight a solid recommendation.