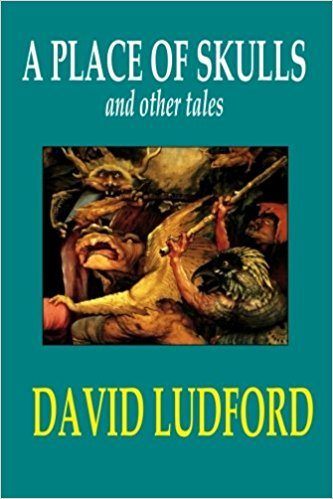 A Place of Skulls and other Tales
David Ludford
Parallel Universe Publications
Released 10/4/2016
Reviewed by Brian James Lewis
This interesting collection of twelve speculative fiction shorts by David Ludford have all been previously published in SCHLOCK! Magazine, so they are tried and true tales. Well, perhaps the author and magazine stay constant, but the stories do not. This a wide variety of tales that make for pretty good reading. Most of them are short enough to zip through in 15-30 minutes, which is handy for multi-taskers like…well, pretty much everybody in the world these days! Although the cover refers to these stories as Terror, that's up for interpretation. I lean towards Strange and Uncanny, which gives this volume a much wider audience. There are a few swears in here, but nothing extreme or over the top. Since these stories are very English, you might be puzzled by a few terms or scenarios such as "the mobile," which means cell phone and everyone has a garden.
Let's get on to some of the stories:
Killing Clowns is definitely a creepy piece full of twists and turns. When the circus comes to each small European town it visits, the members take full advantage of the residents. They get free lodging, the best food, fine booze, and the freedom to shag any woman they desire. If the residents comply, they are allowed to live until next time the circus comes around. However, if they don't, mayhem ensues. When the clowns are questioned about their rude behavior and then challenged, they kill. A few brave villagers stand up to the circus and suffer the comeuppance for doing so.
Dummies has costume shop mannequins escaping from the window they're kept in and killing people for no apparent reason. The police don't get very far on the case, so a newspaper reporter decides to take things on himself. He is scoffed at for his explanation that something supernatural is responsible for the seemingly random deaths. Even the Chief of police is murdered by these crazed dummies! More certain than ever, the reporter attempts to forge an allegiance with the chief's successor. Alas, another sort of partnership has already been formed and our reporter friend is in the wrong place at the right time. The story doesn't end. Instead it leaves us with the feeling that a LOT more bad things are in the future.
The Box –An eccentric fellow worships a small television set that he's placed on an altar of sorts. It appears to be broken with its cracked screen and assorted damage, yet the fellow gets his instructions from it. The box tells him what to do and how to do it. When the man is no longer needed, the box gets rid of him. This story could be looked at as an actual happening or perhaps a person's battle with extreme mental illness. It makes you think about all the crazy shooters in public places as of late and where their guidance comes from.
Sleepwalker is a cool story that takes a couple read-throughs to completely get everything in its proper place. Well, maybe it just took me that long to put everything together! Either way, you have a young woman in a nightgown meeting a dangerous creature in the middle of the night and interacting with it. Then we meet a couple of people who are in the midst of building a romance. It is all very cute until the young man comes to pick up his girlfriend for a date and finds a horror story instead. Lots going on in this one and I don't want to be a spoiler!
A Place of Skulls and other tales is a good read with a wide variety to it. Definitely unsettling, but in a good way! Scary but not over the top with the blood and gore. Give it a try, I think you'll like it!