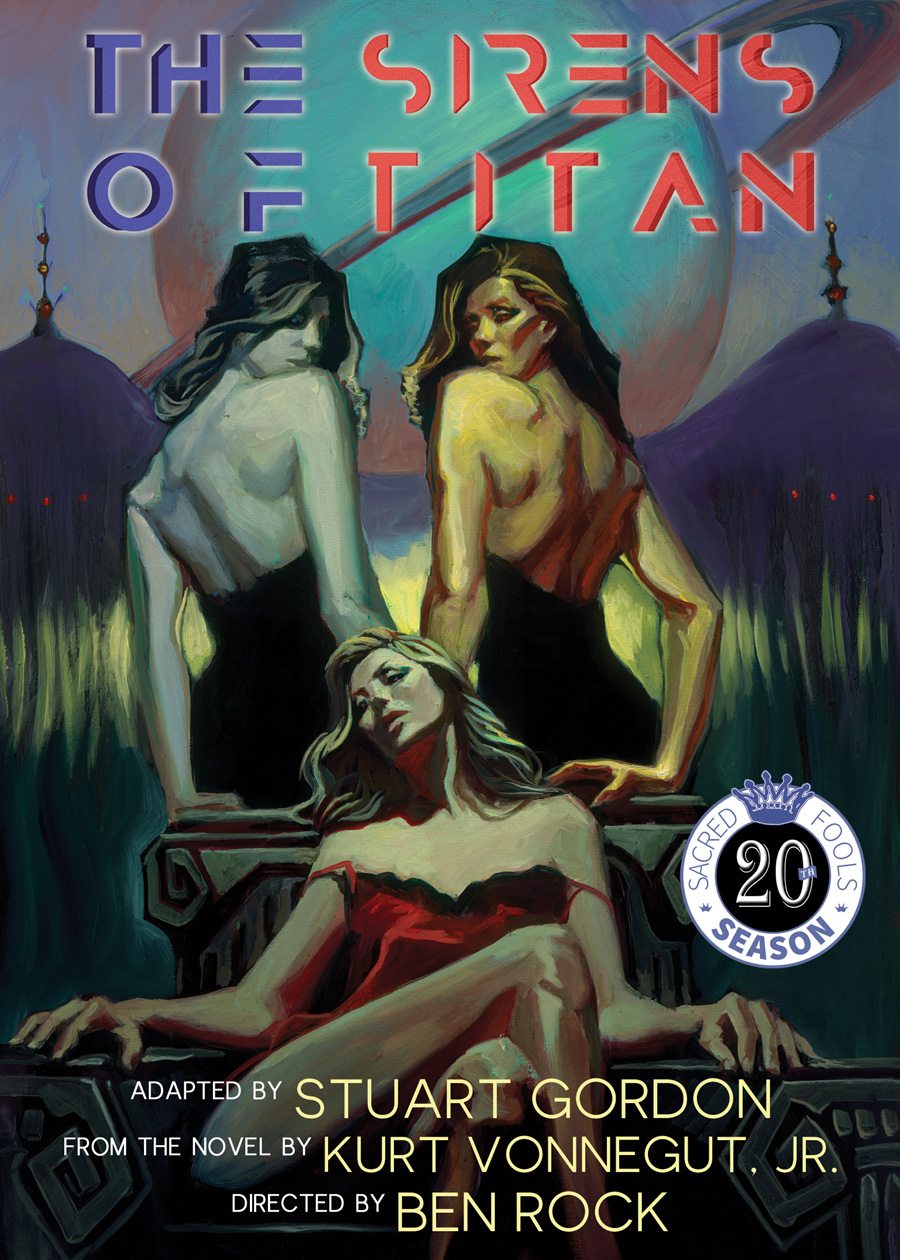 Kurt Vonnegut, Jr.'s science fiction masterpiece returns to the stage in an updated adaptation by Stuart Gordon (Re–Animator: The Musical)
In 1977, acclaimed writer/director Stuart Gordon adapted Kurt Vonnegut, Jr.'s classic novel for Chicago's Organic Theater with the approval and input of the author himself. Now Sacred Fools will close its 20th season with the recently rediscovered adaptation, newly updated by Gordon and more timely than ever.
Director Ben Rock (Baal, Occupation) brings to the stage this visually dazzling and darkly humorous sci-fi epic about what happens when the richest man in the world loses everything, sets out on an unbelievable journey through space and time, and discovers nothing less than the meaning of life. Rock and Gordon previously collaborated on the Ovation-nominated cannibalistic love story Taste, and are thrilled to reunite in bringing Vonnegut's mind-blowing vision to life.
Founded in 1997, Sacred Fools Theatre Company is a 501-c3 non-profit organization dedicated to creating and fostering a dynamic, empowered artistic community in Los Angeles. Notable previous productions include the Buster Keaton comedic biography Stoneface, the award-winning action-comedy Watson, the award-winning musical Louis and Keely, the recent hit The Behavior of Broadus, and the ongoing late-night institution Serial Killers, now entering its 11th year of episodic fun. Run solely by the ensemble artists, Sacred Fools is non-dues paying company that continues its ongoing commitment to the development of new plays and projects, which challenge traditional expectations of the theatrical experience. Its goal is to produce work which invigorates, enlightens, and entertains.
The Sirens of Titan
Presented by Sacred Fools Theater
Directed by Ben Rock
Adapted by Stuart Gordon
Based on the Novel by Kurt Vonnegut, Jr.
Produced by Shaela Cook
Cast:
Pete Caslavka, Jaime Andrews, Eric Curtis Johnson, Jax Ball, K.J. Middlebrooks, Jesse Merlin, Dennis Neal, Tifanie McQueen, and Tim Kopacz
Sacred Fools Theater (For Ticket Info)
1076 Lillian Way
Los Angeles, CA 90038
March 31 – May 6, 2017 (Previews: March 24-25)
Fridays and Saturdays @ 8pm plus Sundays, April 23 and 30 @ 7pm
Tickets are $25 (previews $15)