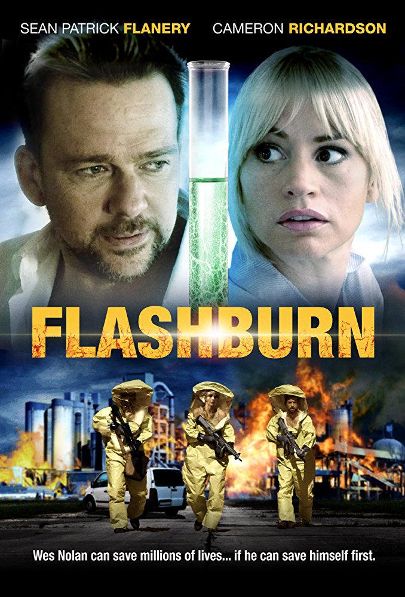 Level 33 Entertainment has announced today the upcoming release of the Sci-Fi Thriller feature film FLASHBURN from Smoke Hammer Media starring Sean Patrick Flannery (The Boondock Saints, The Evil Within, and Saw 3D: The Final Chapter), Cameron Richardson (Alvin and the Chipmunks, Rise: Blood Hunter, and Holy Ghost People), Roman (Lawrence) McPherson (Parallel: Dimension Under Siege, Manglehorn, and Beyond Darkness), Nick Stevenson (Netflix's Orange Is the New Black, The Son, and The Long Road Home), Jordan Kimley (Couples Retreat, Wedding Pact, and Street Millionaire), Justin Fischer (ABC's American Crime and The Executioners), and LaDon Drummond (Johnny's Gone, 200 Degrees, and Game Of Death). The film will available via all On Demand platforms including iTunes, Amazon Video, Comcast XFinity, Spectrum Cable, DirecTV, AT&T, and many more.
FLASHBURN was written and directed by Giorgio Serafini (200 Degrees, Johnny's Gone, and Game of Death) from a story by Garry Charles (200 Degrees, Welcome to Acapulco, and Day of the Mummy). The film was produced by Scott Dolezal (The Hot Chick, The Chosen One, and Angels in Stardust) for Smoke Hammer Media.
In FLASHBURN, Wes Nolan wakes up in an abandoned warehouse with a case of amnesia. He has been kidnapped by someone named "Lazarus" who has him held captive in order to obtain the cure for an Ebola outbreak. Wes was a virologist and microbiologist who was working to engineer a bacteria protein carrier to attack the Ebola before it could destroy human cells. Instead of destroying the Ebola, Wes' protein mutated the virus into something much more potent. Now Wes must try to regain his memory and discover what really happened to him so that he can find a cure to the disease that's wiping out much of the human population.
FACEBOOK: @FlashburnMovie
TWITTER: @Level33_Ent
INSTAGRAM: @level33entertainment