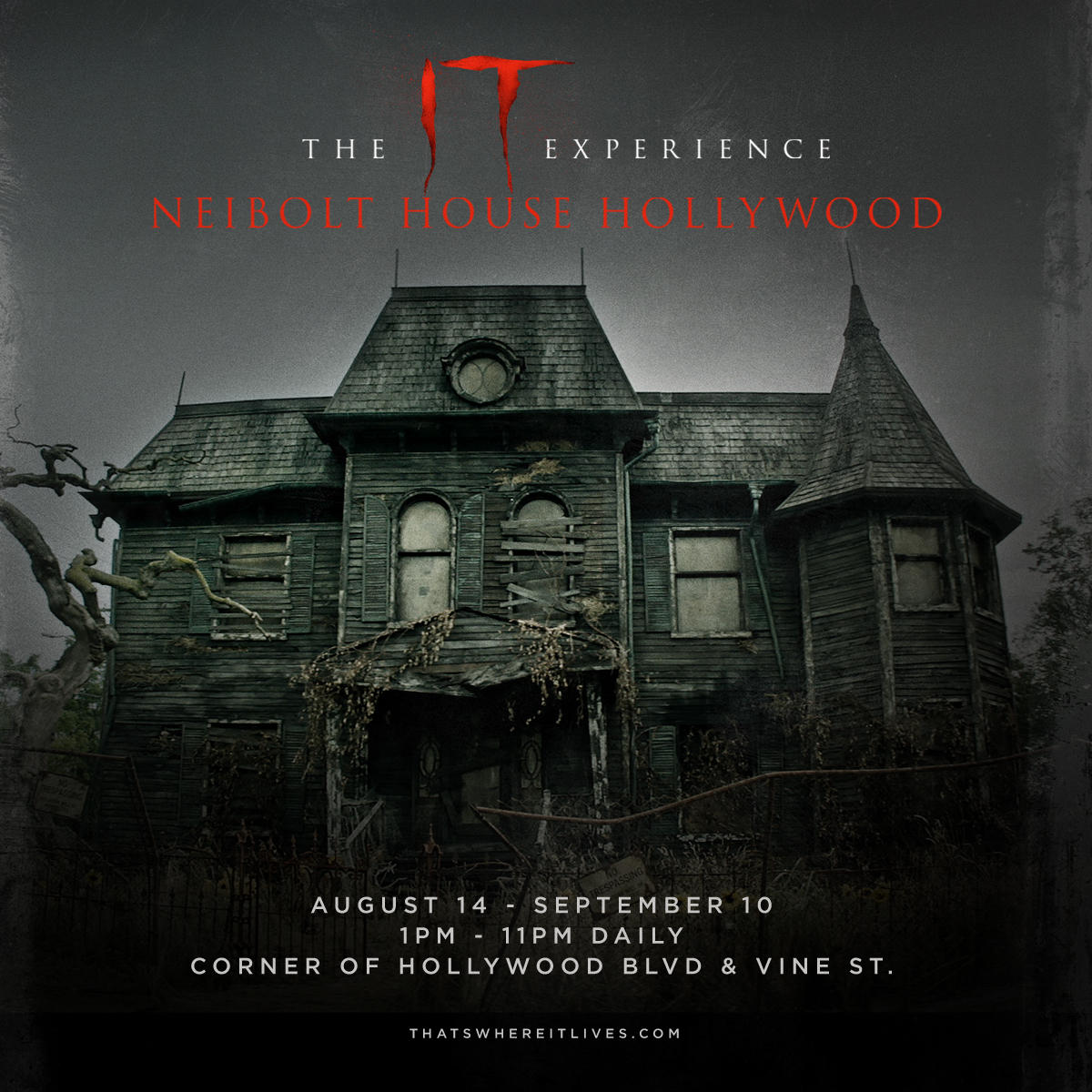 August 14 – September 10
1PM – 11PM Daily
Hollywood Blvd and Vine St. Los Angeles, CA 90028
The IT Experience: Neibolt House Hollywood is coming to the corner of Hollywood Blvd & Vine St. A haunted house experience inspired by Warner Bros' upcoming release IT in theaters September 8th. Caution advised! See Warning Notice Below.* All participants must sign a waiver prior to gaining entrance.
NEIBOLT HOUSE
Hollywood Blvd and Vine
The house will be open to the public daily August 14th – September 10th from 1pm-11pm. Admission is free. Those who are 18 and over are welcome (at their own risk) to step inside the two story replica of 'where IT lives'. Guests will be guided by Georgie through the 5,000-sq.-foot house and will venture room-by-room through immersive film inspired scenes complete with authentic set props. Losers Club groups of 7 will journey through a 20-minute experience encountering pneumatic surprises, live actors, animatronic beings, state-of-the-art lighting, audio, and video.
IT the Movie: New Line Cinema's horror thriller IT, directed by Andy Muschietti (Mama), is based on the hugely popular Stephen King novel of the same name, which has been terrifying readers for decades.
When children begin to disappear in the town of Derry, Maine, a group of young kids are faced with their biggest fears when they square off against an evil clown named Pennywise, whose history of murder and violence dates back for centuries.
IT stars Bill Skarsgård (Allegiant, TV's Hemlock Grove) as the story's central villain, Pennywise. An ensemble of young actors also star in the film, including Jaeden Lieberher (Midnight Special), Jeremy Ray Taylor (Alvin and the Chipmunks: The Road Chip), Sophia Lillis (37), Finn Wolfhard (TV's Stranger Things), Wyatt Oleff (Guardians of the Galaxy), Chosen Jacobs (upcoming Cops and Robbers), Jack Dylan Grazer (Tales of Halloween), Nicholas Hamilton (Captain Fantastic), and Jackson Robert Scott, making his film debut.
Slated for release on September 8, 2017, the film will be distributed by Warner Bros. Pictures, a Warner Entertainment Company.
You can find out all of the details on the official website!