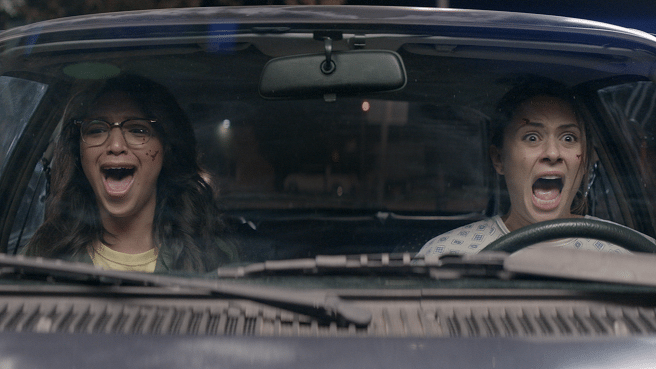 The series stars Mary Nepi, Gabrielle Elyse (Nickelodeon's The Thundermans), Austin Fryberger, JJ Nolan, Nick Gomez (Amazon's Bosch), and Rich Fulcher (Drunk History).
Created by The Olde Money Boyz (Stephen Cedars, Benji Kleiman, and Scott Yacyshyn) and Executive Produced by award-winning producer Paul Young (Blackish, Keanu, Central Intelligence) of Principato-Young
The first two episodes premiere TODAY, Thursday June 22, with additional episodes premiering weekly on Thursdays.
Snatchers follows Sara, a status-obsessed high school student, who, to preserve her social standing, has sex for the first time and unexpectedly wakes up pregnant…really pregnant. Things take an interesting turn the morning after she loses her virginity when she quickly discovers she's pregnant with an alien baby screaming to get out. Now she'll have to team up with her nerdy ex-best friend Hayley to fight against an extraterrestrial threat, and hopefully keep her mom and friends from finding out about her alien offspring.
"Our goal with Snatchers was to bring a human element to the horror-comedy genre. We wanted to create a series that was funny and thrilling, a story with real stakes and honest emotions. We believe the power of the horror-comedy genre lies in playing with people's expectations, creating tension, then releasing it through a laugh or a scream — or hey, both at the same time! Adding a touch of sincerity to that mixture creates something surprisingly unique and visceral," said The Olde Money Boyz.
ABOUT STAGE 13
Stage 13 is an original digital content brand showcasing a new generation of inspired talent and voices in scripted and non-scripted digital content. Creating dynamic, unapologetic series for a multi-dimensional audience, the content brand is part of the Warner Bros Digital Networks.
You can check it out here: https://www.go90.com/shows/snatchers