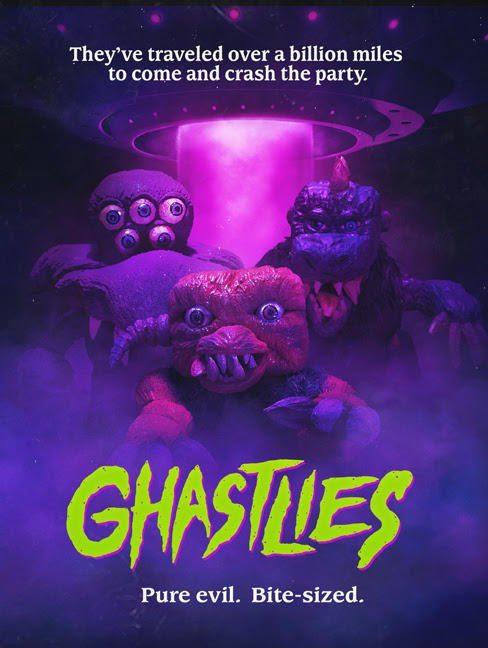 Camp Motion Pictures announced today that its newest feature film GHASTLIES will hit home entertainment November 11, 2017, in both Blu-Ray / DVD combo and HD digital formats.
Executive Produced by Camp Motion Pictures owner Michael Raso and directed by genre stalwart Brett Kelly, GHASTLIES is a practical- FX-laden nod to small creature movies of the 80s with enough genuine scares to make even a seasoned horror fan check under the bed! Camp Motion Pictures is proud to bring GHASTLIES to home entertainment as a DVD/Blu-Ray combo with double-sided wrap and loaded with extras.
Synopsis:
Three sorority sisters plan an initiation for their nerdy friend during a weekend getaway. Things don't go exactly as planned when they accidentally stumble upon a craft containing a trio of extraterrestrial ghastly ghouls! Armed with only their boyfriends and brains, they resolve to send these pint-sized gatecrashers back to the edge of the universe – or die trying.
GHASTLIES is an exuberant homage to 80s tiny critter movies featuring a tubular electro-pop score.
GHASTLIES Blu-Ray / DVD and Technical Specs
Title: GHASTLIES
Formats: DVD/ Blu-Ray Combo, HD Digital
Street Date – 11/07/2017
Catalog code – cmp-3217
UPC 612385321795
SRP – $34.95
Run Time Feature – 76 minutes
Director: Brett Kelly
Executive Producer: Michael Raso
Stars: Kim Valentine, Jessica Huether, Julie Mainville, Eric Deniverville, Joel Elliot
Original Score by Tomb Dragomir
About Camp Motion Pictures:
Showcasing vintage and contemporary films that embody the 80s shot-on-video do-it-yourself esthetic. Notable releases include The Basement, Video Violence, Splatter Farm, and Call Girl of Cthulhu.