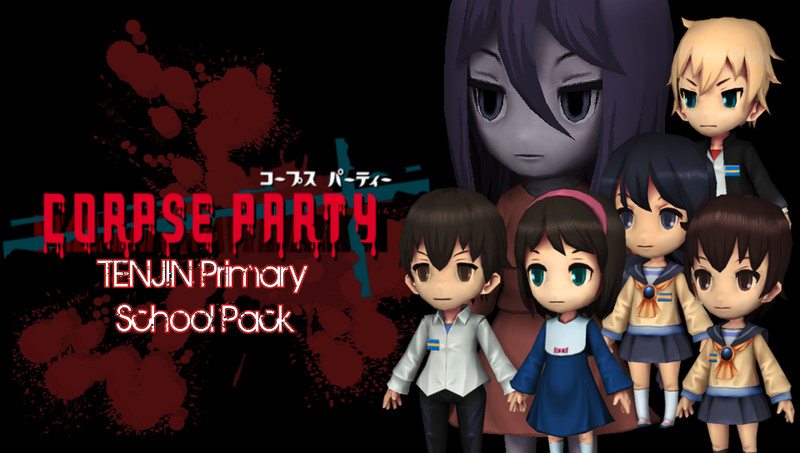 SmileBoom Co. Ltd. announced today that, in collaboration with Team GrisGris, creators of the popular horror adventure game Corpse Party, new downloadable contents including sets and model data from Corpse Party BloodCovered were added to their RPG creation software SMILE GAME BUILDER. The contents are are available from February 28th, 2017.
Corpse Party, with its unique world and series of tragic events, has struck fear and wonder into the hearts of many a player since its first version release in 1996. In recent years, it has spread out from the game world into many different forms of media including a comic, novel, OVA, and live-action film.
The downloadable content will include scenes and character data based on the world of the most popular of the Corpse Party series, the Windows version of Corpse Party BloodCovered. This model data set will allow you to recreate that unique world and horror scene within SMILE GAME BUILDER.
Content Details
Product Name: Corpse Party TENJIN Primary School Pack
Production / Copyright: Team GrisGris
Price: $19.99 (Steam Purchase Link: http://store.steampowered.com/app/588570)
Sound Resource Packs
The Music Box Japanese Horror Complete Bundle (Price: $34.99):
Steam Purchase Link: http://store.steampowered.com/app/597660
Basic Horror SE Mini Pack (Price: $4.99):
Steam Purchase Link: Steam Purchase Link: http://store.steampowered.com/app/601610
Commercial version of SMILE GAME BUILDER required. When using only the materials provided in this product, you may create a derivative work of Corpse Party and distribute it free of charge without obtaining permission from SmileBoom or Team GrisGris.
Set Contents Details:
"Corpse Party TENJIN Primary School Pack"(60 3D Objects, 19 Map Textures)
"Character Set" (6 Main Characters)
Satoshi Mochida:
Belongs to class 2 – 9 of Kisaragi Gakuen. Elder brother to Yuka. Known for his cowardly nature, he also cares for his sister and can be moved to action in times of need.
Naomi Nakashima:
Satoshi's classmate and childhood friend. She has had feelings for Satoshi since her first year in junior high school.
Yoshiki Kishinuma:
Satoshi's classmate and best friend. He has the looks of a delinquent and a dirty mouth, but is kind at his core.
Ayumi Shinozaki:
Class representative for Satoshi and friends's class. Her relaying of the ghost stories concerning the closed schoolhouse are what sets the story in motion.
Yuka Mochida:
Sophomore of Kisaragi Gakuen Junior High School and Satoshi's younger sister. Loves her older brother.
Sachiko Shinozaki:
Young girl and sole survivor of the serial kidnappings and murders of 1973.
About Corpse Party BloodCovered:
Highly popular series which, starting on Windows, was ported onto various consumer consoles (PlayStation Portable, Nintendo 3DS, PlayStation Vita) from 2008 to 2014. The stage for this game is the combined school, Kisaragi Gakuen. During the cleanup for one of their arts festivals, the students jokingly perform a charm known as "Sachiko Ever After" and they are magically transported to the site of the murders, "TENJIN Primary School." They are split apart from each other, and as they attempt to find a way out, they realize that they are in a cursed and magically sealed alternate dimension. What unimaginable dread awaits the students!? The player becomes the students and attempts to safely evacuate each one from the school.