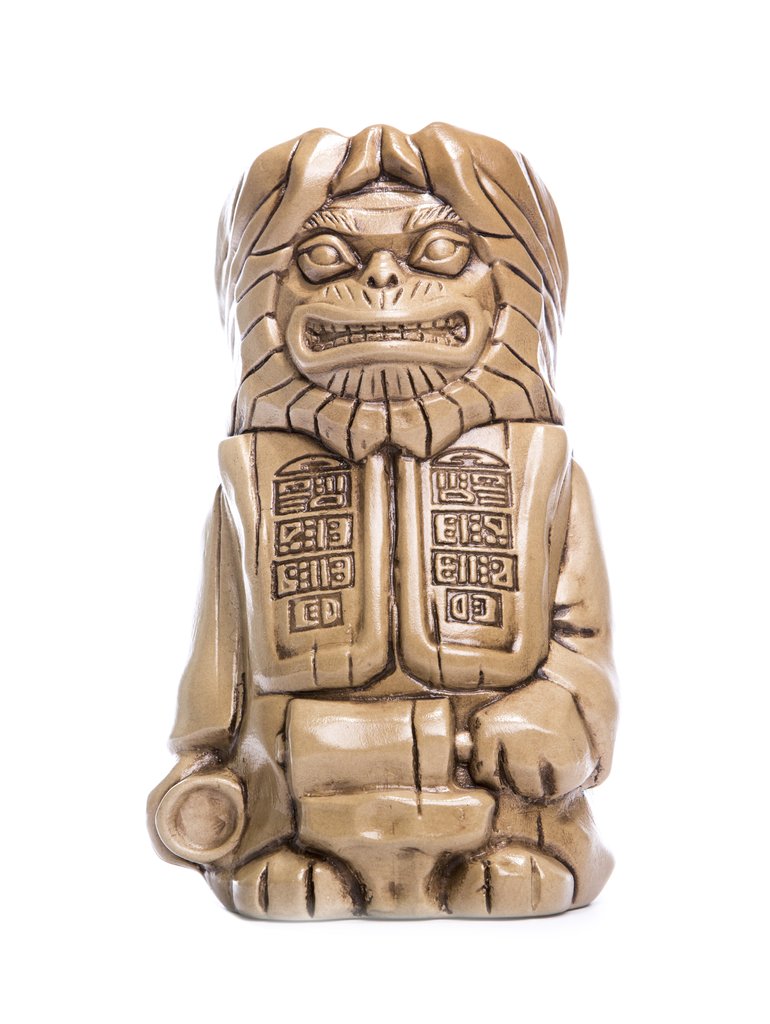 Based on the statue seen in the classic PLANET OF THE APES films, we're thrilled to continue our Mondo Tee-kis line with the Lawgiver handcrafted tiki mug, which holds approximately 18 oz. of your favorite drink! It will be available in four glazeways (Regular Sandstone, Liberty, Bone and Bloody) tomorrow (4/18) at 11AM (CT) via mondotees.com. A fifth version (featuring the Alamo Drafthouse Brown Glaze) will be available at a later date.
Get your stinkin' paws on this (hopefully not) dirty ape!
NOTE: These mugs are handmade, so slight variations from images shown may occur.
PLANET OF THE APES: Lawgiver Tiki Mug. This wide edition features a sandstone glaze. Approx. 8″ in height, Material: Ceramic. Artists: Michael Bonanno, Tom "Thor" Thordarson, Tiki Farm. Expected to Ship in May 2018. $28
PLANET OF THE APES: Lawgiver Tiki Mug (Liberty). Features a grayish blue glaze (Mondo Exclusive). Approx. 8″ in height, Material: Ceramic. Artists: Michael Bonanno, Tom "Thor" Thordarson, Tiki Farm. Expected to Ship in May 2018. Limited to 275 mugs. $40
PLANET OF THE APES: Lawgiver Tiki Mug (Bone). Features a wiped brown glaze over a natural ceramic finish (Mondo Exclusive). Approx. 8″ in height, Material: Ceramic. Artists: Michael Bonanno, Tom "Thor" Thordarson, Tiki Farm. Expected to Ship in May 2018. Limited to 240 mugs. $45
PLANET OF THE APES: Lawgiver Tiki Mug (Bloody). Features bloody deco over a sandstone glaze (Mondo Exclusive). Approx. 8″ in height, Material: Ceramic. Artists: Michael Bonanno, Tom "Thor" Thordarson, Tiki Farm. Expected to Ship in May 2018. Limited to 225 mugs. $50