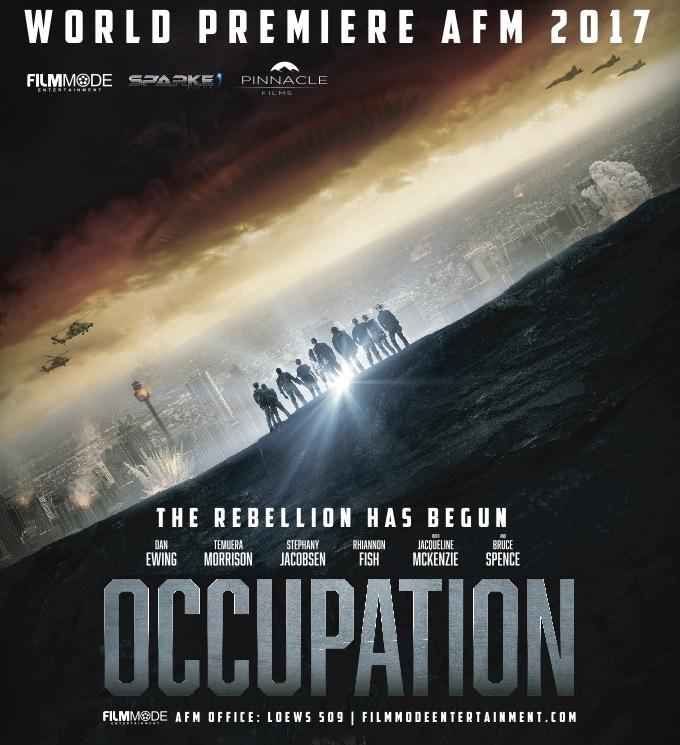 Clay Epstein's Film Mode Entertainment announces the AFM World Market Premiere of the sci-fi action film Occupation.  The film stars Dan Ewing (Home and Away), Temuera Morrison (Aquaman, Moana), Rhiannon Fish (Emmy-nominated The 100), and Bruce Spence (Star Wars: Revenge of the Sith). The production is written and directed by Luke Sparke (Red Billabong, Yesterday Is History). Film Mode Entertainment will be screening the film for buyers for the first time at this year's AFM.
After a devastating intergalactic attack on Earth, the last surviving humans must band together for the sake of survival. As war looms, and the struggle to stay alive worsens, they realize the only way to save the human race is to stay one step ahead of their attackers and strike back.
"Be ready to be blown away by the scale of this film," said Clay Epstein, President of Film Mode Entertainment.  "Luke is an impressive filmmaker who has brought out the best in everyone who worked on this film.  The F/X and action sequences are so impressive, our clients are in for a real treat."
With the Gold Coast of Australia as one of the film's most breathtaking backdrops, the upcoming action science-fiction movie showcases a tremendous ensemble of actors as well as extraordinary post-production.  Utilizing Sharp FX (The Hobbit Trilogy, Matrix 2 & 3) for remarkable prosthetic make-up and mind-blowing visual effects, Occupation proves to entice audiences galore.
Reeling from the success of Guardians of the Galaxy Vol. 2, Arrival, and Alien: Covenant, the resurgence of the sci-fi genre is already evident across the global marketplace.  The action-heavy film stars Temuera Morrison whose fan base is ever-expanding from wowing audiences as Chief Tui in the Oscar-nominated Moana and bringing his talent to the screen in next year's Aquaman and Dan Ewing in his second collaboration with director Luke Sparke.
"We're extremely excited to show Occupation for the first time to buyers at AFM," said writer/director Luke Sparke.  "The film has been put together by a team of passionate individuals and companies from Australia and around the world, and it really is a huge achievement from all.  We believe the film takes the 'invasion' storyline in a new and exciting direction, while still giving action film junkies a fun experience I hope they will want to watch again and again.  The cast involved are all absolutely wonderful and I can't wait for the audience at AFM to be taken on the roller coaster ride that is – Occupation."
Occupation is produced by SparkeFilms, the team behind the 2016 monster flick Red Billabong.  Producers include Carly Imrie and Carmel Imrie.