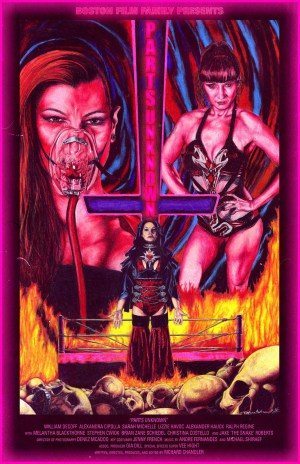 Boston Film Family, LLC, has released the official trailer of its upcoming feature film, PARTS UNKNOWN. The wrestling/horror movie will have its world premiere on June 9, 2018.
Written, produced and directed by Boston Film Family CEO Richard Chandler, PARTS UNKNOWN is the story about how the infamous Von Strasser family (of professional wrestling fame) seek to violently reclaim their notorious status through supernatural means despite being blackballed by forces within the industry. The movie stars retired pro-wrestler/actor William DeCoff, pro-wrestling manager/actress Lizzie Havoc, and Boston Film Family alumni Alexandra Cipolla, Alexander Hauck, and Sarah Michelle.
"PARTS UNKNOWN exists in its own world of stylized violence," explained Chandler about his latest endeavor. "It combines neon color schemes, retro cinematography with a sharp, modern day feel, uniquely created costumes, practical effects, a synth-wave soundtrack, and more."
Legendary independent actress Melantha Blackthorne, who had a leading role in Chandler's feature film GILGAMESH (2014), returns in a smaller role while former pro-wrestler Jake "The Snake" Roberts lends his vocal talents to the movie. Cameos are also provided by the indie tag team The Devil's Doormen as well as YouTube and podcast personality Brian Zane (of "Wrestling with Wregret" fame).
Chandler praised cinematographer Denez McAdoo, costumer Jenny French, and notable musical composer Andre Fernandea for their contributions towards the movie's aesthetic.
"Without the music," declared Chandler, "the film wouldn't be complete. It really helped to round the circle and connect the ideas and motifs of the film. And it hooks you into the violence."
Boston Film Family, LLC, is an award-winning Massachusetts-based independent film production company that specializes in the creation of visual horror and grindhouse stories. Its previous works include the featurette WITCH HUNT (2016), the feature film GILGAMESH (2014), and the webseries BOSTON MASSACRE (2012-2013).
For more information on Boston Film Family, LLC, the company's homepage can be accessed at Facebook – https://www.facebook.com/pg/bostonundead/about/?ref=page_internal – or on the company's website – www.bostonfilmfamily.com . The movie's IMDb page can be found through the following link: http://www.imdb.com/title/tt5759188/reference
Parts Unknown Trailer from Boston Film Family on Vimeo.