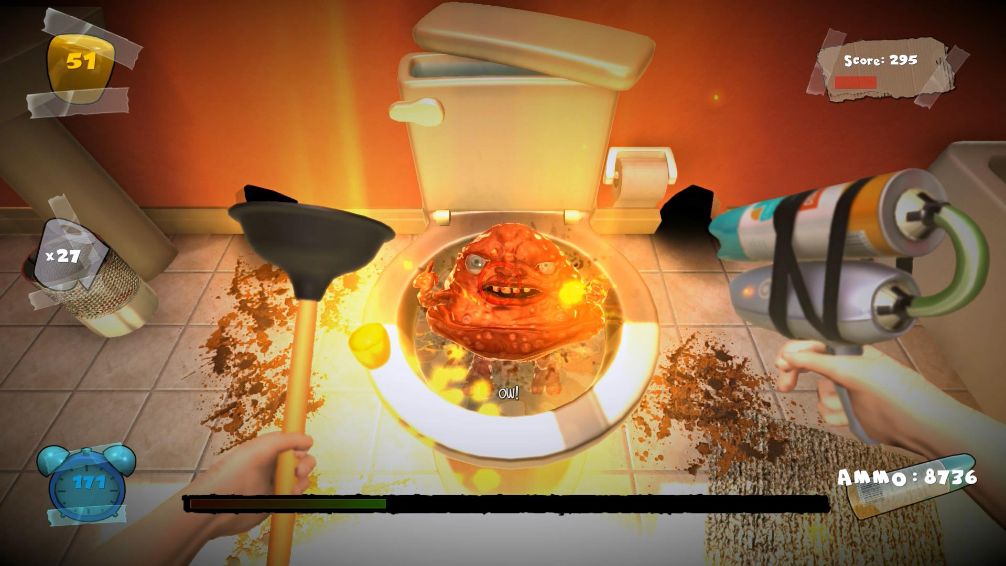 Because flushing has never been so terrifying and challenging!
This is Attack of the Evil Poop, a very controversial and hilarious video game to raise awareness about our eating habits, blending unique game mechanics with a lot of humor and madness, in this upcoming Steam title for P.C.
Attack of the Evil Poop mixes different game genres such as First-Person Shooter, Clicker, On-Rails Shooter, and Quick Time Events among others, to drive players totally insane.
The main goal is to survive those evil creatures without losing all your toilet paper rolls, while you are trying not  to get discovered by your girlfriend. Flush them all before it's too late!
With a difficulty curve implemented challengingly, players will learn to combat against these little but annoying guests and with the mastering game mechanics will be able to unlock and access to every element this one includes, making an exhaustive use from replay value.
The solo dev behind this bizarre game has his survival hopes on it… Oh, crap!
"I hope people will enjoy this game as much as I have done meanwhile I was creating it, laughing a lot at the foolish things that appear at this game. I think we  need more humor and the fact of laughing at these very simple things, make us to be nearer and humanize us. After all, who hasn't ever been through an embarrassing moment related to this?"
Alejandro
About the dev:
Ascend Digitally is the name of a project as a solo dev in which Alejandro develops every videogame area, creating totally original independent games he would like to play. He creates new proposals that take you to uncommon places, where imagination and creativity flow.
Alejandro is also Co-Founder of Sumersión Studio and Professor of Videogame Design and Digital Animation at Arcos College (Santiago, Chile). He also developed ARKADIANAX five years ago as a solo dev (a project that is going to be remade, very soon).
Indiegogo campaign: https://www.indiegogo.com/projects/attack-of-the-evil-poop-steam/x/17328810#/
Website: www.ascenddigitally.com