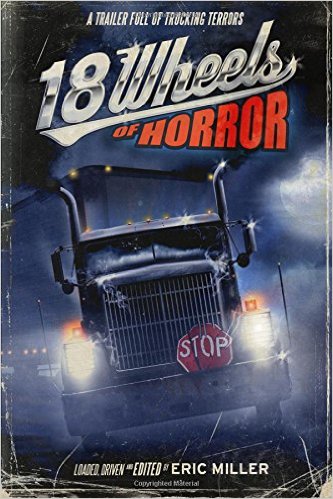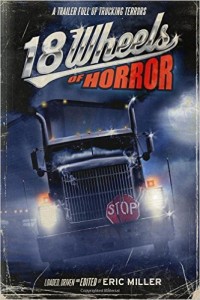 18 Wheels of Horror
Edited by Eric Miller
Big Time Books
October 3rd, 2015
Reviewed by Sheri White
You don't find too many horror anthologies focused solely on truck drivers, but it's actually a great subject to write about. A truck driver is on the road for quite a bit of their lives, so of course they will see things most of us won't.
Ray Garton starts off the anthology with "A Dark Road." Ray has written about truck drivers before in his novel Lot Lizards, where truckers are stalked by vampires, but in "A Dark Road," the story has a different kind of evil. Spence, also known as "Sidewinder," is a lonely, grieving driver who gets drawn into a conversation on his CB with a man he deems Sam Shepherd, due to his vocal similarity to the actor. Sam leads Spence on a dark journey, leaving Spence questioning his sanity.
In "Never Lost Again" by Joseph Spencer, a trucker grabs a meal at his regular diner and ends up meeting his wife's murderer. His previous plan of suicide is forgotten when the murderer traps Spence in his own cab, but rescue and revenge come from an unlikely source. This story reminded me of the "children-pushing-a-car" urban legend.
Gary and Phil are new partners on the road in "Siren" by the editor of this anthology, Eric Miller. Phil, an older guy, is a firm believer in UFOs and other unexplainable phenomenon, to the amusement of Gary. But Gary realizes Phil isn't as crazy as he thought when they are attacked by a female apparition one night.
"Happy Joe's Rest Stop" by John Palisano is one of the most chilling stories of the bunch. Greg is on the road with his dad when they make a stop at Happy Joe's. While Greg's father gasses up the truck, Greg runs into the store for a snack. Then literally, all hell breaks loose. The apocalyptic atmosphere throughout the story was practically a character itself. The feeling of dread was palpable.
A roadie for an aging band is getting ready for their last performance when he realizes the lead singer's on-stage devil-worshipping persona is real, and they are about to put on a hell of a show. Janet Joyce Holden's "Take the Night" brings all the parental fears of those "Satanic" bands kids love to life.
"Lucky" by Del Howison features a female truck driver carrying a load of hogs when she is waylaid by a blizzard and forced to wait it out in the parking lot of a closed truck stop. The following morning she is getting her truck ready to head back out when a freak accident traps her beneath it. This story was extremely tense, evoking my own fears of facing certain death in freezing temperatures.
18 Wheels of Horror is a great anthology, and a lot of fun to read. There isn't a bad story in the bunch. Take this one with you on your next road trip, and if a truck driver accidentally cuts you off, give him a break – who knows what might be chasing him.